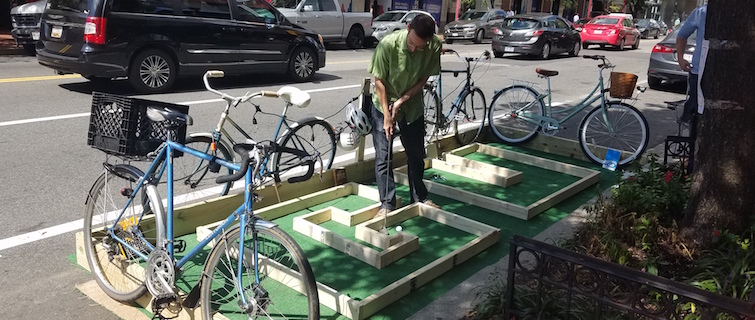 The TV news report that morning was, if not dire, at least concerning, and it went something like this:
If you plan on driving to downtown Washington today, you could have trouble finding on-street parking because of citywide event called Park(ing) Day, which will take up a number of parking spaces.
Twenty-eight, to be exact. Out of about 19,000, according to Patrick Revord, a student in Georgetown University's graduate program in Urban & Regional Planning, who, along with other students, had a lot to do with appropriating one of those parking spaces and turning it into a two-holed, mini golf course.
But this was no conspiracy. In fact, Park(ing) Day, which started in San Francisco 12 years ago and is now held in cities throughout the world, was sponsored by the District Department of Transportation and is in keeping with D.C.'s goal of creating a healthier and more livable city.
"Park(ing) Day is creating a park within a parking space," said Revord, who is also Director of Research and Data Management at Southwest Business Improvement District (SWBID). "It helps people think about how we use our public space."
Questioning Our Car-Centered Culture
If the TV newscast seemed a trifle over-the-top, it's understandable. Planning experts say we've all been enculturated, to some degree, to value the automobile over other means of transportation and thus privilege all the amenities that go with it: cheap gas, well-maintained (and ever-expanding) roads and highways—and parking spaces.
"Park(ing) Day reminds all of us that for 100 years we have organized our cities around the car," said Uwe Brandes, Faculty Director of the urban planning program. "In this moment, we need to rebuild our infrastructure with a people-oriented vision for communities which corresponds to the way we want to live in the 21st century.
For 99 percent of car trips in the United States, parking is free—for the motorists, that is, said Donald Shoup, a UCLA planning professor, now retired, in The High Cost of Free Parking. But, of course, few public amenities are really free; the costs are simply passed on to everyone else, including those who don't own cars. Free or below-market rates for curbside parking encourage more people to drive, Shoup said, and in crowded cities that means a lot of time cruising around looking for open parking spaces.
Building "Terrific Cities"
His answer is not to build more parking spaces, but to raise the costs of the existing ones to market rates, which would result in less driving, and therefore, less congestion and pollution.
"It definitely speaks to a lower carbon footprint and a healthier lifestyle," said Georgetown urban planning student Alissa Thompson, who was staffing the miniature golf course in the late morning.
To illustrate that point, about 30 urban planning students had gathered at someone's house one night before the event and cut up enough two-by-fours to build a "pop-up" miniature golf course that could be assembled in a few minutes to spell "GU"—Georgetown University. By 9 a.m. on Friday, Sept. 15, the course appeared in a reconstituted parking space near the corner of 7th and H Streets in busy Chinatown. In addition to the golf course, the space was decorated with a bicycle on each of its four sides, offering a visual hint of how many bikes might fit into one parking space. (Revord estimated about 15.)
Brandes stopped by the mini-park in the late morning, on his way to a conference with Thomas Dallessio, CEO and Publisher of Next City, an online magazine about urban affairs. They each played a round.

"If we spent half as much money on people as we do on automobiles," Dallessio noted, "we'd have terrific cities."