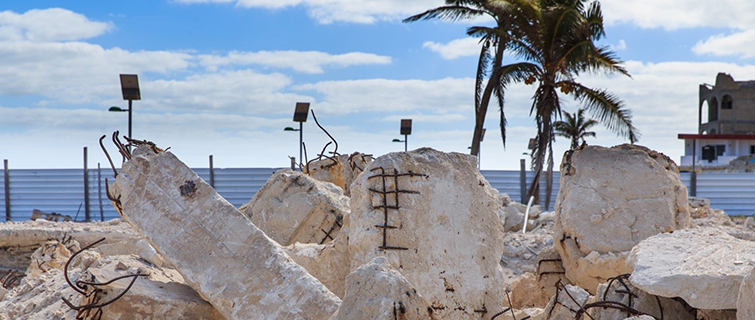 If St. Thomas had a winter, it would look like this.
That's what Rolando Arrieta thought as he looked up at the broken trees, stripped of their leaves and clinging to the bare hillsides. An NPR producer, he had been sent with correspondent Jason Beaubien to cover the island's recovery after it was hit five days earlier by Hurricane Irma, then a Category 5 storm.
"St. Thomas is no longer a lush green rain forest," Arrieta said in one radio report. "Instead, it's dull brown with naked trees on the hillsides."
A radio producer for nearly 20 years, Arrieta also teaches audio storytelling in Georgetown University's graduate program in Journalism. In his classes, he talks about the importance of narrative and in-depth reporting. Few news outlets can match huge players like CNN when it comes to up-to-the-minute reporting on floods and hurricanes. But while NPR also reports on these events, its specialty is finding deeper stories behind the breaking news.
In St. Thomas, as in Puerto Rico and other areas devastated by hurricanes, there is drama in covering storms and the destruction they cause. But just as important, Arrieta said, is the often more complex story of what comes later: How do these places rebuild and return to a semblance of normal life after perhaps months without clean water, power, and other necessities?
"It's not too late" to do substantive reporting in these stricken areas, Arrieta said. "There are so many untold stories, and now is the time to do them."
Little Sleep, Multiple Plans
For Arrieta and Beaubien, doing these kinds of stories meant getting only a few hours of sleep a night and working under tough deadlines (5 a.m. for the "Up First" podcast, followed soon after by "Morning Edition," then "All Things Considered" at 4:30 p.m.) with few reliable services. In this case, thinking three moves ahead is critical, Arrieta said, as is having "a Plan C and a Plan D" if plans A and B don't work out.
"What if things grind to a halt and put us in a risky situation?" In this case, "risky" refers not to physical risk, but to the possibility of not being able to complete the job they were sent to do.
Sometimes the islanders were reluctant to drive Arrieta and Beaubien to places because of the danger from downed power lines, Arrieta said. But many people helped by providing details about life after the deluge. One woman talked about a "big, big rat," attracted by uncollected garbage, that invaded a neighbor's home. At Big Kahuna's Rum Shack—usually a magnet for tourists from cruise ships—two bartenders worked alone in a roofless building and wondered what the impact would be on the winter season.
In a different year, Arrieta might have been a tourist himself—but not this time.
"I thought my first trip to the Caribbean wouldn't be under these circumstances," he said.
Learn more