What a Top University Is Teaching the Next Generation of Chief Communications Officers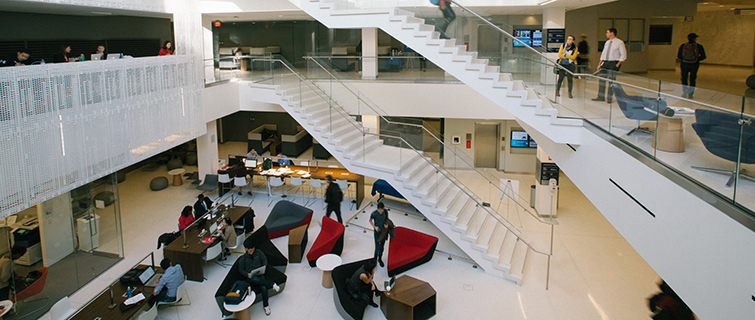 By David Ward, Alum, Executive Master's in Global Strategic Communications.This story was originally published on LinkedIn.
Just a few weeks before I got married in August 2016 I found out I was accepted to a new program at Georgetown University. This two-year-old Global Strategic Communications program was geared towards mid-career communications professionals and if I successfully completed it, I'd earn an Executive Master's degree from one of the most well-respected universities in the world.
This intense one-year program would not only take me to San Francisco, London, and Singapore, but also require me to take hours away from my married life as a first-year husband. (Not the best wedding gift to my wife, especially given I already had a master's degree). However, I felt this would be an investment in my professional future. Fortunately, it's already working out, as I'm six months into my new job working for a GE-majority-owned company. The entire process has been a journey focused on learning. I thought it'd be worth a shot to share just a few things I learned that I hope to take with me in the years ahead.
1. Collaboration is key.
Some like to think that Chief Communications Officers are actually Chief Collaboration Officers. (And yes, CCOs belong in the C-suite alongside the CEO, COO, CMO, and any other chief). For example, when the Arthur W. Page Society—the world's leading professional association for senior public relations and corporate communications executives—surveyed CCOs in a recent white paper, the research indicated CCO collaboration with C-Suite colleagues was up 32 percent from five years prior. That's because while other executives in the C-suite often focus on their parts of the business, the CCO takes a generalist view. And while the CCO must, at the very least, have a surface-level understanding of all the other businesses, that means helping to apply the CEO's strategic vision across all business functions. And using communication as his/her tool to achieve that goal.
2. Tying communication success to the business's success is critical.
In the old days, if your job was in communications, you wrote the press release. Not only that—you wrote the press release probably just regurgitating what someone else told you.
These were often jobs that evolved out of secretary or executive assistant roles. Later on, these would be housed in public relations and then public affairs. Now, any serious, forward-looking enterprise has graduated communications to its own department. Or at the very least the head of this department now proves worthy enough of the CEO's attention—someone the CEO needs to make a better-informed business decision, alongside the Chief Marketing Officer, Chief Digital Officer, Chief Human Resources Officer, or any other chief for that matter.
To continue to keep this important role alongside all the other executives, the CCO must evaluate his/her success by tying it to the success of the business he/she supports. The metaphor given by the author of this 2015 McGrath Power article explains this pretty well: "Why would anyone board a plane without knowing where it was going?"
The top businesses know it's all about communicating with your customer—it's about listening and responding to what they tell you. It's that simple. While how you complete that communication, on an ongoing basis, requires a sophisticated approach. It's the communications officer whose job will lead the way for any CEO and C-Suite looking to stay competitive.
3. Speak up. Have a perspective.
Now, I've never been to business school, but from what I've heard, one of the things you get rewarded for the most is speaking up and having an opinion. It makes sense. What good are you if your voice isn't heard? You might as well be a paper without ink or a computer without a screen.
The Georgetown program differed greatly from my more research-driven program at Villanova. Instead, the small cohort of 11 regularly engaged in dialogue and discussion about a given topic, scenario, or case study—not to find the right answer, but to form an opinion. It still had to be reasonable so that it could stand up to others' scrutiny, but each student had to find his or her own voice. They had to have confidence to be successful.
I loved it.
For a young professional like myself, you regularly need to defer to the opinion of more senior-level staff. Sometimes, it's just because they have more experience—other times it's out of respect or they just have a higher paygrade. This program fed into our self-confidence and gave us the space to have an opinion way more often than we otherwise would during work hours. In the end, it's what any CCO will need one day when entering the C-Suite. The confidence in knowing that you have a voice, and you have an opinion, and they're the most valuable things you bring to the table.
4. Knowing yourself is knowing how you become a leader.
"Your brand is what other people say about you when you're not in the room." That's what our personal branding coach told us on more than a few occasions during the program.
Finding the space to lead (which also happens to be the title of one of the one required readings during the program) was one of the most valuable parts of the program. Throughout the year, we all worked through the creation of our own leadership development plans. We studied mindfulness, poured over results of our Gallup Strengths Finder tests, had a crash course in personal branding, and in the end, delivered a 20-plus-page leadership development plan.
Some of the key traits found in my leadership style: 1) Confidence, 2) Openness, 3) Compassion, and 4) Grit. Four traits integral to me as a leader that I may have never found out had I never had the time and space to discover it.
This type of discovery has already led me to try other things since the program ended. Including saying "yes" to a Leadership Committee with the Public Affairs Council and even taking an improv class in my hometown of D.C.
5. Don't overlook networking.
A lot of what I learned through the program was done outside of class hours. Not only did I take classes alongside professionals representing some of the most recognizable brands in the world, but I also had the chance to learn from many senior communications leaders at the front lines of business in America and around the world.
To name a few folks, I met the CCO of Home Depot, the CCO of Southwest Airlines, the former CCO of General Electric (GE), the (now former) CCO of GE's Oil & Gas business (now Baker Hughes, a GE Company), the Senior Vice President of Corporate Communications for United Airlines, the current Senior Vice President of Government and Public Affairs for Volkswagen, the former Senior Vice President of Corporate and Government Affairs for Kraft Foods, the Vice President of Global Communication and Public Affairs for Johnson & Johnson, the Vice President & Global Brand Leader for The Ritz-Carlton, and the Senior Vice President and CCO of General Motors and former CCO of the Volkswagen Group and United Airlines,.
It's the kind of lineup of professional communicators that is worth the cost of the program itself.
Not only that, but this program was a big reason why I was able to change jobs, and am now working for one of the most well-respected brands and companies in American history. It's given me a new path for learning. A new space to grow, not only becoming a better worker, but also a better person and even a better husband.