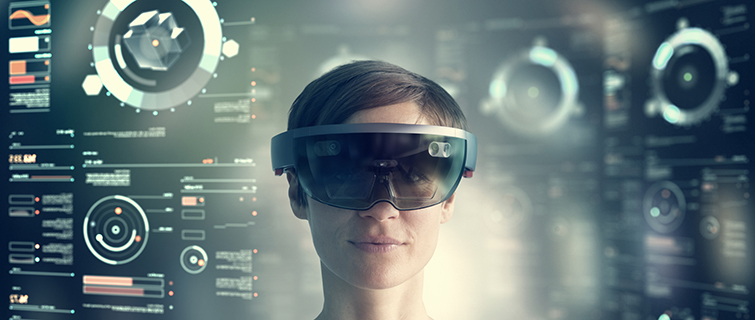 For most individuals, their first experience with the concept of Augmented Reality (AR) is through Snapchat filters, which allows the user to put a mask over their face or manipulate their facial expressions. This software is being enhanced by a growing hardware boom in cell phone operating systems and camera innovations. For those in attendance at the 2018 Consumer Electronic Show (CES) in Las Vegas, Nevada, during early January, they will get to experience the burgeoning AR tech landscape. Among one of the most exciting technological advancements to be displayed over the last several years, AR will finally get to take center stage at this year's show.
"We are going to see this integrated in different ways throughout the industry, the combination of face identifying technology and organic light-emitting diode (OLED) screens really makes it a great vehicle for content," Technology Management Program Advisor and Consumer Technology Association Board Member Tom Campbell said, referring to CES from the Georgetown School of Continuing Studies' LG Digital Studio.
AR differs from its sister technology virtual reality (VR) in that the user is not fully enclosed in a virtual world. Using a 3D phone camera will allow consumers to interact with virtual elements placed or overlaid in the physical environment they interacting in. The rapid nature of development in 3D cameras, embedded in the newest generation of cell phones (such as Apple's iPhone X, Samsung's Galaxy 8, and the Google Pixel XL), will allow this technology to be accessible to a much larger consumer base.
Jeb Terry, VP of Emerging Technology and Head of PROcast at Fox Sports, addressed the challenges and opportunities that AR introduces.
"AR presents both a fantastic opportunity and incredible challenge to content creators; especially as hardware advancements make it easier for fans to consume and engage with the emerging medium. The key to effective AR is going to be how the creators use the tool to improve the content experience and deliver more value to the fan—it has to be more than a gimmick. The most successful creators will leverage AR to help them tell better stories and generate more engagement."
CES Takes on a Global Issue
The largest consumer technology show on the planet has also committed to discuss solutions for one of its single largest issues: Cybersecurity. Over the last decade, the movement of technology into appliances and other connected devices has been labeled "the Internet of Things." This growing trend allows consumers and businesses to use a host of technologies that connect directly to the internet, including cars, washing machines, and thermostats to name just a few of the hundreds of products. Protecting the devices and the data they emit is a central focus of CES 2018.
"It is an ongoing challenge; every time we find a solution, we have a new problem," Campbell remarked. "What comes first: the technology or the legislation?"
As with any new technology, there are also unforeseen challenges to consider.
"An interesting example is a new store Video & Audio Center is building: We are putting technology in our building that has never been used before in commercial use. How does one get a permit for that? It's the same issue for cybersecurity. These are the inherent challenges with an evolution of technology."
At the Forefront of American Innovation
The startup culture that is sweeping the country will be on full display at CES 2018. Eureka Park, the dedicated startup wing at CES, will have more than 800 companies showing off their hardware and software innovations. Started in 2013, Eureka Park once housed the fledgling VR company Oculus and more recently housed Benjilock, a rechargeable padlock with a fingerprint technology, which received an investment offer from Kevin O'Leary on "Shark Tank" last year. The growth of the startup community gives many young technologists an outlet to be creative.
"Most technology students are familiar with managing teams and projects with this degree of flexible development," said John Gilroy, Technology Management Faculty Member and host of the popular podcast, "Students v. Startups: Showdown on the Potomac." "One of the principles of agile software development is to fail early and fail fast. Learn your lessons and adapt. A startup gives a student the ability to extend that flexibility to strategy, tactics, and finance."