New Scholarship Boosts Leadership Institute's Global Impact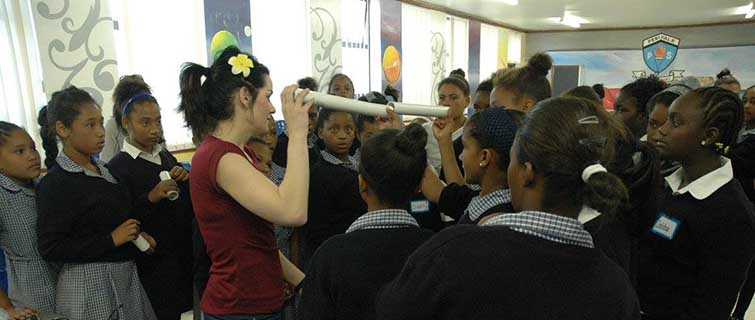 There is no Georgetown campus in the Cape Flats of South Africa. No undergraduate college, law school, or business school. No School of Continuing Studies. But when Amy Maxwell's nonprofit does leadership development training in this area—one of the poorest parts of a nation plundered by apartheid—she feels a part of Georgetown is there.
Maxwell, Director of International Programs for Gap Community, is the first recipient of a scholarship to pursue an Executive Certificate in Transformational Leadership through Georgetown University's Institute for Transformational Leadership, which offers leadership development programs for executives and senior-level leaders in both the public and private sectors.
Her $5,000 scholarship is part of a $10,000 gift from Bette George—a longtime instructor in the program—and her husband, Vernon George. A second $5,000 scholarship from that donation will be awarded to a student in the program's upcoming summer cohort.
Program Director Lynn Screen hopes that the Georges' example will inspire others to give.
"We hope that—through the generosity of our community—we can sustain this scholarship," Screen said. "It's really seed money that will encourage others to invest in this much-needed area."
Providing a Way Forward
Gap Community sponsors leadership and development programs in seven nations throughout Africa, Asia, and North America. In South Africa, it is working in a small public school in "The Flats" that serves many students with serious developmental and psychological problems, among them post-traumatic stress syndrome, fetal alcohol syndrome, and a host of other learning disabilities.
A local couple originally came to Perivale Elementary School to offer a chess program; later, they expanded their services to include academic help. That work has produced extraordinary results; for example, recently, four students from the K-7 school were granted "full-ride" scholarships to largely white private secondary schools—something Maxwell said is all but unheard of in an impoverished township once dubbed "apartheid's dumping ground."
The Gap Community provides teachers and staff, as well as students in grades five through seven, with leadership training that will help advance education and careers. And now that Maxwell is pursuing the Transformational Leadership Certificate, she is able to share the skills she is learning at Georgetown—skills informed by Jesuit values that emphasize compassion and service to others—with emerging leaders thousands of miles away.
"We're here [in South Africa] to stand with you, for your vision, your organization, your country," Maxwell said.
Training Leaders for a Different Kind of Future
Georgetown's Institute for Transformational Leadership offers a variety of leadership certificates, classes, and professional workshops. The $5,000 scholarship is specifically for the Executive Certificate in Transformational Leadership and is awarded to applicants who best exemplify Georgetown's Jesuit values of People for Others and Community in Diversity through their work in social justice and diversity and inclusion.
A highly experiential program that includes one-on-one coaching as well as group work, the certificate emphasizes leadership development across three levels: Examining yourself as a leader and instrument of change, creating fulfilling relationships in a leadership role, and understanding the role of leadership within complex systems.
This certificate, along with the Institute's other offerings, emphasizes that successful 21st century leadership looks very different than the hierarchical and authoritarian models that might have worked in the past. To be most effective, today's leaders need qualities like self-awareness, authenticity, and the ability to mobilize networks that can lead to social, cultural, and systemic change.
"It all goes back to our mission statement," Screen said. "We're developing leaders to create a more sustainable and compassionate future."