"The Sky's the Limit" for Georgetown-Airbus Partnership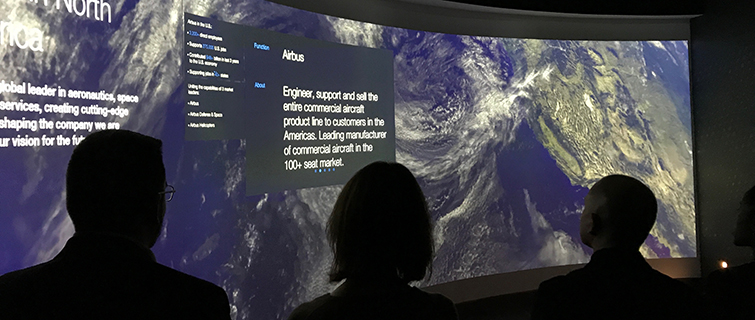 At the global aeronautics company Airbus, they have a term for the state-of-the-art airplanes, gliders, space vehicles, and helicopters they build on three continents and manage from more than 180 locations around the world.
They call these innovations "neat stuff." Or at least, that's how Chairman Emeritus Allan McArtor referred to them at a reception announcing the company's partnership with Georgetown University's School of Continuing Studies.
McArtor wasn't just being funny—he was using the term to make a larger point. Yes, a vertical takeoff and landing aircraft (planned for 2020) and a two-seater electric plane do indeed qualify as "neat stuff." But what renders these innovations extraordinary is not simply their design or capabilities: It's the people that made them possible.
"I think our responsibility is not just to build neat stuff," McArtor said at the company's Airbus Experience Center, a showcase for its designs and innovations in Washington, D.C. "But to support people, and that is what this partnership will do."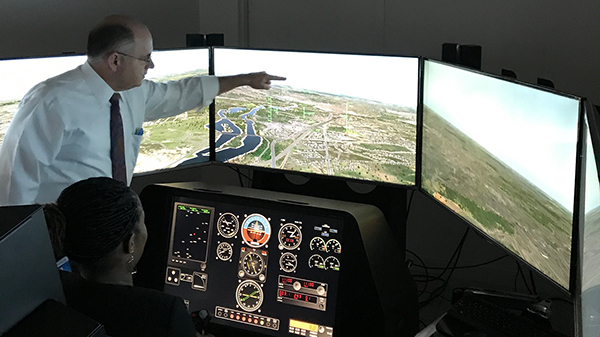 Students try their hand at the Airbus flight simulator.
A Growing U.S. Presence
The partnership links Georgetown with a multinational company that employs nearly 130,000 people on six continents. Since 1978, Airbus's U.S. presence has grown from a single small sales office and a staff of fewer than a dozen people to a nationwide network of 38 locations in 16 states. A leader in both military and civilian aircraft design, Airbus builds airliners ranging in capacity from 100 seats to more than 600, and supplies a large portion of the American Airlines fleet.
Founded in 1789, Georgetown is one of the world's leading academic and research institutions. Its School of Continuing Studies was officially established in 1970 and today offers graduate programs in professional and liberal studies, as well as more than 30 professional certification programs and additional academic and practical training for today's changing workplaces.
The partnership will initially focus on the Capstone, or thesis project experience, for current students pursuing the Executive Master's in Program & Portfolio Management. This semester, a group of about five students will design and evaluate a portfolio of shared services initiatives using tools, techniques, and best practices they acquired at Georgetown. Both Airbus and Georgetown anticipate that the partnership will grow within the Program & Portfolio Management program and also expand to other programs within the School of Continuing Studies.
A Partnership Is Born
It's fitting that the idea for a partnership came from a former student with connections to both Georgetown and Airbus. Franklin Ortiz graduated with the first cohort the University's graduate program in Project Management in May of 2017 and joined Airbus two months later. Impressed by the education he received at Georgetown and the ongoing knowledge he was gaining at Airbus, he started thinking of ways to get the two organizations together. Once he had the idea defined, he took it to his supervisor, Daniel McCombe, Head of Business Transformation for Airbus America.
Like any good program manager, McCombe usually likes to see the research before devoting precious time to a new initiative. But after having worked with Ortiz for several months, he had all he needed.
"My research was Franklin," McCombe said.
He simply asked Ortiz if there were other graduates from the program like him, and Ortiz replied that, as a matter of fact, there were.
"He's like, 'Oh, this is great,'" Ortiz recalled. "'Because one of our initiatives at Airbus is to partner with world-class organizations so we can learn from one another.'"
From there, they worked for many months to come up with the details, along with a team that included Fernando Lombo, Airbus's CFO for U.S. Operations; Georgios Moschoglou, Faculty Director for Georgetown's Project Management and Program & Portfolio Management programs; and Kathryn Wade, Program Director for Georgetown's Project Management and Program & Portfolio Management programs.
A Chance to Give Back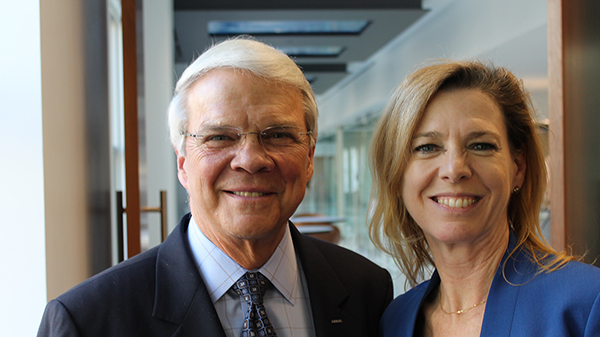 Airbus Chairman Emeritus Allan McArtor and Dean Kelly Otter
At the partnership's inaugural event, Kelly Otter, Dean of the School of Continuing Studies, said the work of Ortiz and the Airbus-Georgetown team exemplified the University's Jesuit value of educating students not simply for themselves, but also for others and the greater good.
"By opening the door for others to follow, you're giving back and creating new opportunities," Otter said.
After his talk, McArtor, a former fighter pilot and member of the U.S. Air Force "Thunderbirds" Aerial Demonstration Team, touched on the same theme by reflecting on his time as an instructor at the U.S. Air Force Academy and the gratification that experience provided.
In his talk, Moschoglou said he and his colleagues at Georgetown were already looking ahead.
"The Capstone project is all about transformation and change, and we all know how fast change is coming," he said. "Successful organizations lead change when they manage their projects, programs, and portfolios effectively."
The new partnership is open-ended—on purpose, Moschoglou said:
"Really, the sky's the limit."