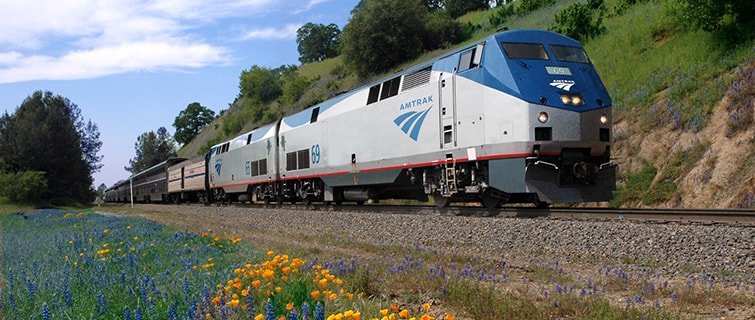 You can go from center city to center city without leaving your seat. Or, if you do want to get up and walk around, you can do so whenever you want.
There's no squeezing into a cramped middle seat. No placing your seatback in its "full, upright, and locked position." No dropping your pen, or pretzel, or reading glasses on the floor and possibly saying goodbye to them for the rest of your trip.
It's a nice way to travel called the train. And Amtrak's Peter Wilander thinks he can sell it to a new generation of riders, particularly a millennial generation whose numbers are expected to climb to 73 million and eclipse those of baby boomers by 2019.
"People are interested in travel being an extension of their lifestyle," said Wilander, Amtrak's vice president of product development and customer service. He said Amtrak's job is to support today's digitally enhanced lifestyle while maintaining what has made passenger trains unique.
Catching the Millennial Wave
Millennials, and those who follow their lead, are putting a premium on personal freedom, convenience, and choice. And because of technology, they have been able to customize their lives as never before, providing more choices and the ability to order everything from meals, to movie tickets, to Uber rides online. Amtrak will respond to this demand by developing systems that will let passengers preselect their seats and order a snack or dinner before they board the train, Wilander said.
In recent years, more young people have been moving to cities and relying on public transportation because of its accessibly and relatively low cost. While some demographers say this wave has already crested or will do so soon, others see the population of urban millennials increasing through 2024. And, in any event, according to United Nations statistics, total U.S. urban growth is not expected to peak until 2045, when it will represent more than 89 percent of the population. In all this, Wilander sees opportunity, especially in short- and middle-distance routes, where trains can compete more effectively with airlines.
"Air traffic and car traffic are becoming increasingly congested, and we can offer center city to center city," Wilander said. That means avoiding the hassle of driving to and from airports, which are often located many miles from downtown.
Making the Iconic New Again
More broadly, Wilander wants Amtrak to work on reviving its brand, which has become a bit tired since its founding in 1971 (inauspiciously, right before a decades-long boom in air travel). That means both developing a more recognizable national identity and, at the same time, allowing for regional flexibility by featuring amenities like a blues band in the Chicago station or regional food and beverages in the dining cars along the coastal Florida line.
Customer service is critical to all facets of the hospitality industry, so recently Wilander convened a dozen experts from the world of travel, hotels, restaurants, and academia to comment on these ideas and do a little brainstorming of their own.
Erinn Tucker, faculty director of Georgetown University's graduate program in Global Hospitality Leadership, said Amtrak could improve by focusing on "internal customer service," that is, its relationships with its employees. That would build cohesion in the organization and ultimately help conductors do a better job of serving riders from a variety of age groups.
"The conductors don't just need to be taking tickets," Tucker said. "They could also do a better job of welcoming the passengers and anticipating their needs."
While Amtrak possesses a lot of strategic advantages, it also has numerous obstacles to overcome. In a sense, it is three railroads in one: The Northeast Corridor, which is the most highly traveled and makes a profit; state and interstate services throughout the rest of the country, which rely in part on state subsidies; and the iconic but money-losing long distance routes.
Other complications include the fact that Amtrak doesn't own a lot of its tracks (particularly outside the Northeast Corridor) and must share them with freight railroads. And because Amtrak receives no dedicated federal funding, its budget is subject to the shifting prerogatives of Congress.
"It's an opportunity," Wilander said of the future Amtrak is contemplating. "It's a daunting opportunity because Amtrak is a complicated business model. How do you take something that people see as iconic and add to that?"
Learn more