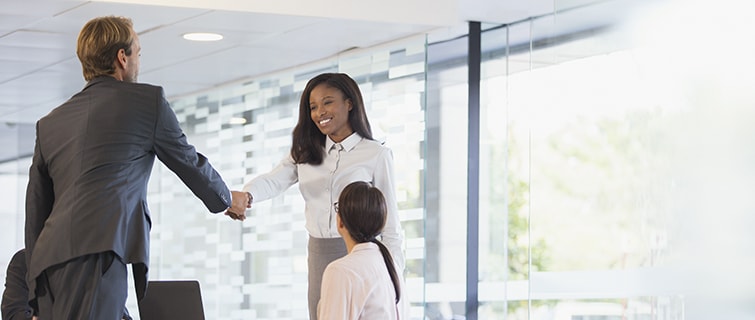 Sometimes the secret to landing your dream job is working with a recruiter. But recruiters aren't always easy to work with, and navigating the relationship can be difficult. Follow these do's and don'ts to save your sanity when working with recruiters:
Do: Pick the right recruiter. You need someone respectful and professional to partner with you in your job search. Before working with a recruiter, ask for recommendations from others in your field and look on LinkedIn to see which recruiters have strong endorsements and share good jobs or content.
Don't: Go on fake interviews. Bad recruiters or staffing agencies often post boilerplate ads for jobs that don't really exist. They use these vague posts to reach out to applicants to invite them for an interview to "discuss what you're looking for" or "meet about some opportunities." This is a way to collect candidates for their database in case a job comes up later. Avoid time wasters like this by asking for details on the job before agreeing to speak with anyone. If it's a legitimate job, they'll be able to give specifics even if they're not able to disclose the name of the company yet.
Do: Use your recruiter as a resource. Your recruiter was hired to help the company find the right fit, so he/she may be able to give you insight into what the company is really looking for, what the salary range is, and what the most important skills are for the job. If you're working with a corporate recruiter, who is employed within a company's HR department to facilitate the interview and hiring process, you can also avoid bothering the hiring manager by following up with the recruiter about benefits questions and status updates on the selection process.
Don't: Forget who your recruiter works for. Recruiters don't work for you, they work for the company with the open position(s). Remember that you're speaking to an agent of the employer. Be polite and professional, and don't tell your recruiter anything you wouldn't say in an interview.
Do: Follow up. Recruiters are busy people, so check in every so often to make sure you're top of mind. If you're working with a staffing agency, sending a summary of your top skills and what you're interested in, or even a link or two to jobs that you have your eye on, can help your recruiter understand your career goals and where to place you.
Don't: Pay for gimmicks or hidden fees. It shouldn't cost you anything to work with a recruiter. Don't pay any fees that weren't disclosed ahead of time. You shouldn't have to pay for background checks (except in a few industries; typically these are paid for by the employer), you should be under no obligation to pay your recruiter for setting up interviews or pay if you do not accept an employment offer, and you definitely should not pay for any gimmicks like personal branding websites or video resumes.
Do: Be open to temping. Temp-to-perm or contract-to-full-time jobs are becoming increasingly common, especially in the tech industry, to help companies minimize the risk of making a bad hire. Be open to starting out in a temporary position (as long as there's a clear timeline for making the transition to a permanent job).
Don't: Get pressured into taking a job that's not the right fit. Recruiters are paid to help companies fill open positions, and bad recruiters sometimes push candidates to accept a position that isn't a great fit just so they can get paid. Be your own advocate, ask questions that will help you understand the work environment and whether it's the right fit for you, and make sure you get a job you love.
Do: Confirm details with the employer. When working with an external recruiter it's possible for information to get miscommunicated. The employer is the one hiring and paying you, so if you receive an offer of employment make sure that you get the details about your salary, hours, and benefits in writing from the HR department at the company before you accept the offer.
Don't: Forget to network. If your recruiter is good, your relationship shouldn't end when your job search is over. Stay in touch for the next time you're looking for a new career opportunity, and send work their way when you know any talented colleagues who are looking to make a move.
Learn more