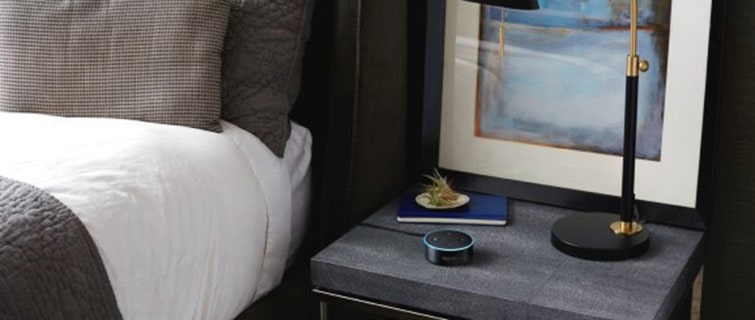 "Alexa, wake up!"
No, we're not badgering a recalcitrant teenager. Alexa, as most of us know it (or is that "her?"), is a voice-activated assistant that responds to simple commands or questions such as "Turn off the lights," or "Turn on the TV," or "Why are the Orioles so bad this year?"
Actually, she can't answer that last question. But an increasing number of people are inviting what some people call "Amazon's digital butler" into their homes, and all they have to do to get her started is utter the "Wake Word," which is simply "Alexa" ("wake up" being optional).
Now Amazon's Alexa for Hospitality is being piloted at selected Marriott International properties, extending the company's reach into the hospitality field and, just maybe, encouraging guests to buy Alexa's Echo speakers for their homes, if they haven't already.
Early in the Game
At the hotel, Alexa becomes what Amazon calls "a virtual concierge," responding to commands like "Turn on the heat," "What time does the gym open?" or "Bring more towels." The service is convenient for guests and frees up hotel staff for more complicated and guest-focused tasks.
Hotels are interested, but they're not exactly scrambling to put the devices in their rooms; it's more like a measured testing of a technology that continues to evolve. But that pace could change in a few years as Alexa, Siri, and other voice-activated devices make their way into more and more homes.
"Customers are beginning to engage with these in their homes, and that creates some expectations for the hospitality experience," said Drew Shepard, vice president for marketing strategy and performance at Marriott and an instructor in Georgetown University's graduate program in Global Hospitality Leadership. "I think we are in the early innings of understanding how to engage in voice during their stay."
The upscale Wynn Las Vegas announced two years ago that it planned to put Alexa for Hospitality in all 4,748 guest rooms, but it is moving methodically and, as of early 2018, had equipped about 300 guest rooms and suites with the devices.
Privacy, Please
Before the voice assistant trend can really take off, however, tech companies must take more steps to alleviate privacy concerns and the potential threat posed by hackers, said Scott Hansen, senior director of guest technology at Marriott International.
"Take Guest A—he checks out," Hansen said. "How do you clear the device for Guest B?"
A New Way to Connect
In addition to Alexa, Marriott and other hotels are also experimenting with smart phone technology to streamline the guest experience, Shepard said. For example, according to Shepard, someday soon guests will be able to order room service from a cab and have the food waiting when they arrive back at their rooms.
"These types of tools are really about expanding the ways guests can interact with us," Shepard said.
Of course, hotel guests come in with varying levels of interest in technology and competence in using it. That means it's important not to regard Alexa as the preferred means of communication, but as one of many guest options for connecting with the hotel, said Shepard.
And as for guests who don't want Alexa around, well, they can simply turn it down—or unplug it.
Learn more