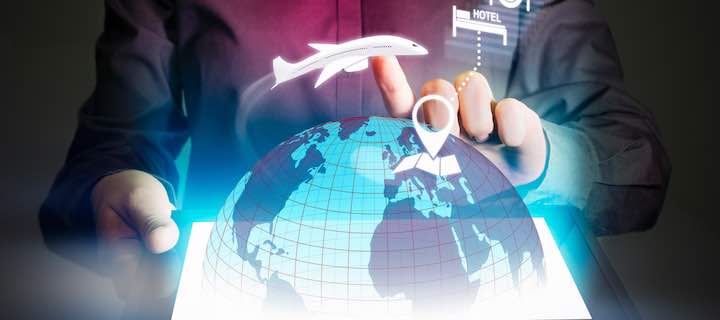 It wasn't long ago that the hotel industry was considered a technology laggard. With guests increasingly demanding that the 'e-comforts' of home be made available while away from home, hotels struggled to meet those expectations. Wireless access at hotels—particularly large ones in older buildings—was challenged by underpowered infrastructure and upgrading was expensive. Televisions were also modest and entertainment programming not as varied as consumers had available via download to their electronic devices. Also consider that a traveler could check-in and board electronically for their flight as well as book transport and restaurants on the go with their handhelds, but still had to present themselves to the hotel front desk to check-in and collect a key to the room.
But that's all about to change. The hospitality industry is experiencing a technology renaissance that hasn't been seen since the sector migrated from electronic cash registers to front office computers in the 1980s. The transformation from laggard to leader is also happening rapidly as the industry contends with a mixture of issues stemming from disruptive forces and systemic functional obsolescence.
Skipping the Front Desk
The innovation that seems to be among the more prominent is what the industry is labeling 'straight to room' technology, which allows guests to check-in to the hotel remotely, use their handheld as a room key, and bypass the hotel front desk altogether. Certain applications even afford guests the ability to choose their room and pre-order services or amenities prior to arrival to the hotel.
Making Rooms Smarter
The next breakthrough appears to be the evolution of the guest room to a smart environment that connects the guest to in-room comfort, lighting, entertainment content on the television, and other functionality that we can only begin to imagine. The smart guest room is beginning to materialize in different approaches, with Hilton leveraging its 'digital key' application to facilitate connectivity, while Marriott is approaching the smart room concept leveraging voice activated devices in the guest room.
Nurturing Loyalty
Rooted in the push to innovate is a focus on the customer that is driven by the competitive forces presented by online travel agents (OTAs) and the resilience of home-sharing platforms. Hotel companies are feeling pressure to instill greater loyalty through increased engagement with the customer, thereby directing the guest to proprietary booking channels. This not only earns a claim to the customer relationship, but in theory represents greater control of customer acquisition costs.
Moving to the Cloud
Further contributing to these advancements is the upgrading of legacy hotel reservations and front office systems that in some cases border on the archaic. Moving to more contemporary, cloud-based systems facilitates parallel projects to improve customer engagement.
Expect these trends and others to continue to evolve as the hotel industry embarks on a new age of innovation.
Learn more