Virginia Ali, co-founder of Ben's Chili Bowl, remembers a time a half century ago when a police officer would check in regularly with the iconic U Street restaurant. Back then, the street was known as "Black Broadway," a thriving retail area in the heart of Washington, D.C.'s African-American community.
"He was walking a beat," and the restaurant staff knew him, said Ali, who started the business in 1958 with her late husband, Ben, an immigrant from Trinidad.
The original Ben's Chili Bowl is still there, and it's become a District institution, attracting famous people from around the country, including President Obama, who stopped by when he was in the White House (though Ali emphasizes, "We treat everyone the same").
And Black Broadway? Nowadays, it's often called the U Street Corridor. It's younger, trendier, more affluent, and diverse—and not the close-knit neighborhood it once was.
And what about the police? Most of them aren't on foot anymore. They're in their squad cars, patrolling a bustling, complex city that grows on a typical weekday by nearly 80 percent, to more than 1 million people.
Few people would want to bring back 1958, knowing the bitter cultural and racial strife that was to come. But Ali said there is something worth remembering in that personal connection that was established between police officers and the community.
Same Goal, Different Perspectives
Ali was one of eight panelists at a forum called "Beat Banter," which included Police Chief Peter Newsham and representatives from the District's hospitality industry. Also attending the event, held at The Line Hotel DC building in Adams Morgan, was Shawn Townsend, director of the new Mayor's Office of Nightlife and Culture.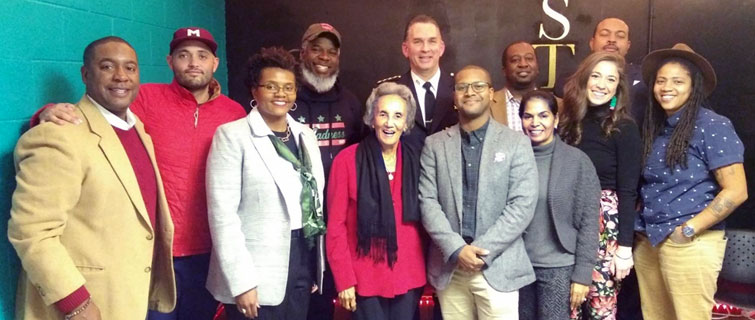 The panelists talked about the issues surrounding the policing of minority communities as well as the central place that restaurants and other establishments play in the life of a community.
The event was organized by the three co-founders of Black Restaurant Week, which featured 38 establishments in early November during its inaugural year: hospitality industry leaders Andra "A.J." Johnson and Furard Tate, and Erinn Tucker, Ph.D., faculty director of Georgetown University's graduate program in Global Hospitality Leadership. One issue, they noted in announcing the forum, is "the realization that minority-owned businesses may have very different experiences when it comes to how their businesses have been policed or protected."
Police shootings in a number of U.S. cities, and the recent incident in Philadelphia, in which a Starbucks manager called police on two black men who hadn't ordered anything while waiting for a business meeting (police later put them in handcuffs and removed them), has fostered a pervasive sense of mistrust in many jurisdictions.
"We are in a time right now that is very anti-police," Johnson said, adding that this makes building better police-community relationships more important than ever.
On the same day as the panel discussion, D.C. Mayor Muriel Bowser announced that the police force would grow by about 150 officers over the next four years (there are now 3,850) with some of them walking neighborhood beats or riding bikes, Segways, or scooters. While this move alone won't bring back the cohesiveness that Ali remembers, it's a step in that direction.
Building a Safer Community
Meanwhile, at the panel discussion, a consensus was forming that building strong relationships between the community, its retail establishments, and the police is critical.
"I'm absolutely convinced we will be a safer community the more communication we have," said Newsham.
Added Andrew Dana, owner of Timber Pizza and Call Your Mother: "We're all on the same team. We all want to accomplish the same thing."
And that means building a safe, vibrant, and inclusive community. It is best, Newsham said, if restaurant owners get to know the police officers in their neighborhoods and the captain who is in charge of them. But both groups need to reach out.
"Police ought to be coming to your businesses," Newsham said. "They should be getting to know you. And I would say it has to be a two-way street."
Problems can arise because of the different responsibilities of police and business owners. A police officer called to an incident at a restaurant, for example, often sees the mission as solving an immediate problem, which can lead to misunderstanding, Newsham said. They should handle these incidents with sensitivity, but that isn't always the case.
"If you run across a jerk police officer, please let us know," Newsham said. "Because we can't change the behavior if we don't know about it."
A History Lesson
To acclimate them to the city and the communities they will be patrolling, the police department takes new police to the National Museum of African American History and Culture, followed by a meal at Ben's Chili Bowl.
"We make sure our police officers understand the history of policing, and policing in Washington, D.C.," Newsham said. "And it's not a particularly good history."
One issue that both the police and hospitality leaders share is the difficulty attracting good employees. Many of the people they hire are young and inexperienced, meaning they generally don't have a lot of practice dealing with interpersonal problems that demand a high degree of poise and sensitivity.
"Does anyone remember your first restaurant experience?" Newsham said. "You were a kid."
Chef Rock Harper, who was in the audience, was impressed by the chief's perceptiveness:
"You sound like you could run a restaurant!"
Learn more