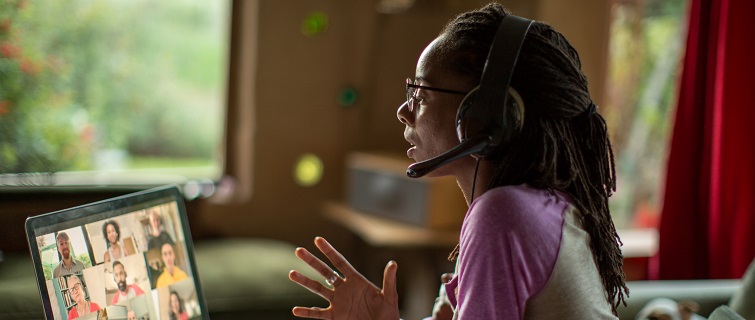 At a different time, in a different context, it might have worked. But it was remarkably tone deaf on the eve of one of the most bitter presidential elections in modern American history.
To recap: In the fall of 2020, with the country polarized into two mutually self-righteous and distrustful camps, the retailer Gap—in an apparent bid for instant national reconciliation—launched an advertising campaign with a bicolored hoodie—half blue, half red—with the message: "The one thing we know, is that together, we can move forward."
Needless to say, the lovefest never happened. Instead the company was besieged with angry tweets and complaints from just about everywhere.
"That was a product push at a time when there should never have been a product push," said Kerry O'Grady, Faculty Director of Georgetown University's Master's in Public Relations & Corporate Communications program. She said the ad seemed to be saying: "Hey, just because we're divided as a nation doesn't mean you can't shop at Gap."
More than Mere Words
O'Grady was one of many speakers and facilitators at the Institute for Public Relation (IPR) Bridge Conference, which was held virtually because of the pandemic. The two-day conference—geared toward public relations and corporate communications practitioners as well as academics—was sponsored by Brunswick, Southwest, Peppercomm, and Georgetown University's School of Continuing Studies.
She said the Gap fiasco shows what can happen when a company's marketing and public relations departments aren't on the same page—or, in this case, maybe not even in the same general vicinity.
"I can guarantee, a PR person was not in the room when that decision was made," O'Grady said.
The ad also speaks to a deeper issue that was explored at the conference: With all that has happened in the country in the past year—the pandemic, economic distress, and protests over racial justice—is it really enough to simply say the right thing and project the correct image? Increasingly, the public and PR professionals are calling for corporations and the people who work for them to demonstrate sincerely to back up those words.
Too often, O'Grady said, C-suite leaders have made statements—for example, extolling diversity when their own advertising materials lack that very quality—that don't resonate with the public or their own workers.
"They were just saying what they wanted to say, and it was creating a lot of inner turmoil," O'Grady said. "And, at the end of the day, it's the PR practitioner who has to solve that."
A New Approach
In her conference session, O'Grady talked about what PR might look like in the future and how PR practitioners themselves are rethinking what they value and how they approach their jobs following that tumultuous year, 2020.
"They wanted to establish connections, not just when they need them, but long-term, because that's very valuable now," she said. "And they talked about wanting to change how they do business in a virtual format, and smile more on camera, and not focus just on the work, but on the people behind the work. One gentleman who attended the session talked about the pivot he made from making checklists every day to checking on people every day.
"That's a really great pivot for our profession, which is about people," O'Grady added. "Now, we don't have to be just about people, we can be for people."
Learn more