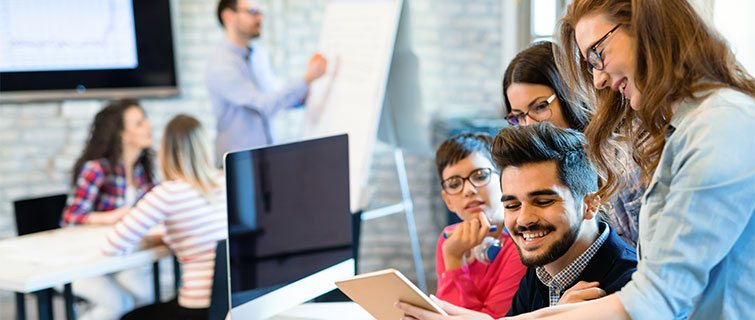 There can be no doubt that digital marketing plays a key role in fueling organizational success across industries. Designing and implementing truly effective digital marketing strategies—acquiring new customers through retargeting campaigns, creating social media buzz for new programs, or using CRM to effectively retain high-value customers—requires modern marketers to be conversant with many new tools and techniques.
At the same time, successful marketers know that more traditional competencies, such as leveraging marketing research to derive key customer insights; creating comprehensive, multi-channel marketing plans; and developing (or effectively managing) a brand are still necessary in today's hyper-competitive environment. Knowing this, I designed a new elective course called "Building Digital Brands," an open enrollment course available to students in the Business Administration or Multidisciplinary Business Studies certificate programs.
Some Historical Context
The notion of a brand originated many centuries ago when individuals started using branding as a symbol or mark of identification. Branding derives from the Ancient Norse word "brandr" which means to burn or to prove ownership of valuable livestock.
Fast forward to more modern times and marketing icons like Bill Bernbach, Leo Burnett, and David Ogilvy (or perhaps Mad Men's Don Draper?) ushered in an era when brands truly became household names. Importantly, brands signal trust, which can simplify consumer decision-making while creating the potential for long-term company value. However, this success depends on the brand being managed properly.
A New Elective
In the words of author Seth Godin, "A brand is the set of expectations, memories, stories and relationships that, taken together, account for a consumer's decision to choose one product or service over another." "Building Digital Brands" is all about helping students understand what it takes to properly manage a brand in today's digitally dominated marketplace so that consumers choose their product or service time and again. The course examines core brand concepts, incorporating case studies to illustrate real-world complexity and exploring current issues that today's marketer must be able to address, such as:
Organizations have ceded some control to customers who are now empowered through digital and social platforms to help define and evolve a brand. How should this be handled?
Customers no longer compare a specific aspect of their brand experience with others in the same industry or category; rather, their comparison frame-of-reference is the very best like-function (purchase, service, etc.) that they have experienced. What is the brand-related implication?
Long-held brand truths are now bumping up against new realities. A brand's unique associations and values must be thoughtfully cultivated, yet customers must have a role in co-creating brands. A brand must define a relevant value proposition, with authenticity being a desirable brand attribute for consumers. The "Building Digital Brands" course is designed to prepare students to apply these classroom lessons to their current job-related realities.
A Combination of Skills
This course is highly relevant to students in both the Business Administration and Multidisciplinary Business Studies programs. In today's demanding (and COVID-impacted) business marketplace, developing digital marketing expertise to drive customer demand while building loyalty is critical. To do so necessarily involves learning many skills and tools, such as email marketing, Google Analytics, WordPress, and inbound marketing. At the same time, being an effective marketer in a digital world requires combining these capabilities with foundational marketing constructs like brand management.
Editor's Note: "Building Digital Brands" will be taught May 7–8 and 14–15, 2021.
Learn more