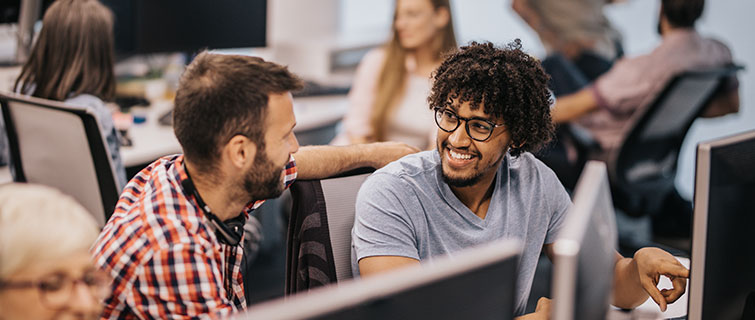 Even if you knew next to nothing about data science, talking to Sam Goodgame would tell you a lot about the eclectic group of thinkers who are attracted to this subject, why they find it fascinating, and why they believe it can help solve a host of problems in the real world.
Goodgame's background itself suggests there are many ways into the field. A native of Washington, D.C., he attended the U.S. Military Academy at West Point and led an infantry platoon in Afghanistan. Later, while working as an operations officer in his battalion, he realized that by using data science—or, as he put it, "a little bit of automation, and a little bit of math, and a little bit of visualization and delivery"—a lot of military processes could run more smoothly.
A Never-Ending Pursuit
Today, Goodgame is Associate Vice President, Data Science, for Morning Consult and an instructor in Georgetown University's Certificate in Advanced Data Science program. The advanced program takes off where the Certificate in Data Science concludes, equipping data scientists with technical and leadership skills that integrate the latest advances in data engineering, machine learning, and ethical AI.
"Almost every problem is becoming a data problem. Every opportunity is a data opportunity," Goodgame said. "And the amount of data you have access to is also increasing, so having literacy with the basic set of data science tools and techniques just unlocks so many doors and allows you to leverage domain expertise in some other area extremely powerfully."
It's a never-ending pursuit, and, if you are drawn to this kind of exploration, it never gets old.
"Even if you knew everything there was to know about the field today, in a month the field will have moved on, and there are more papers that you will have needed to see and more techniques that will have come up and broken the mold," Goodgame said. "And so it's exciting to work in a field that is moving and has that kind of unreasonable effectiveness across a wide range of domains."
"Unreasonable effectiveness" is a math term, coined in 1960, that describes the outsized impact a mathematical formula can have on understanding and predicting processes in the natural sciences. A similar impact can be achieved through advanced data science.
"You can have a small team of data scientists that's cross-functional, that has skills that overlap with one another and complement one another," Goodgame said. This team "can solve problems that scale to hundreds, and thousands, and tens of thousands of people."
The Ability to Lead, Strategize
Assembling such a team takes technical knowledge, leadership skills, and the ability to strategize in a complex, multifaceted environment. At Georgetown, Goodgame teaches in the three-course leadership track. One of the courses explores product management and infrastructure for effective teams and includes among its objectives:
Scope large, complex, and unpredictable tasks into tractable steps with concrete measures of success;
Evaluate software tools that can help to discourage silos, encourage prototyping and iteration, and keep costs low;
Compare open source data storage, access, and processing tools to proprietary ones and understand the tradeoffs and advantages.
These may be important skills for data scientists today, but there will be more to learn tomorrow. And Goodgame considers this a plus.
"You're never really done," he said. "You're never really at a point in your career as a data scientist when you can kind of sit back and put a feather in your cap and not need to continue to learn. I think the love of learning new things—the joy of learning new tools and new techniques—is a common denominator for a lot of data scientists."