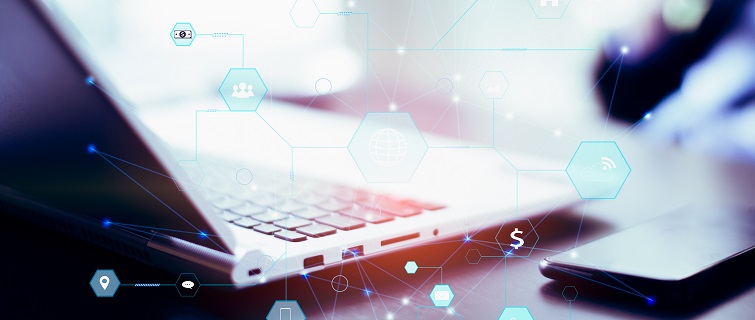 The digital economy has taken off—growing by more than $1 trillion annually. However, the benefits have not been evenly distributed. Why is that?
"Digital transformation is not easy," says Frederic Lemieux, Ph.D., faculty director of the Master's in Strategic Digital Transformation program at Georgetown University. "It's been a bumpy road for most organizations."
That's because organizations are made up of people. And you need people to implement digital transformation. The problem is that right now there's a skills gap. To truly excel in the field of digital transformation, organizations need well-rounded professionals with business acumen, change management experience, and an ability to work with and lead others.
"What you need is people with a broader skill set who can communicate new ideas and lead change," says Lemieux "People who can design an effective digital transformation strategy, gather people together. People who can understand what a digital strategy could be doing for an organization."
That's a lot of "people." And since one of Georgetown's core values is Educating the Whole Person, Lemieux thought he should start a people-focused program.
Thinking Inside the Box
Lemieux is quick to point out that digital skills are as important as analog skills.
"In our Strategic Digital Transformation program, we will do a deep dive into artificial intelligence, machine learning, and cloud computing," he says. "And not just cloud computing, but also edge computing [computation and data storage that exists outside the cloud but on the edge of the network], hybrid cloud, and so forth."
However, Lemieux and the program's designers believe it is equally important to develop the analytical and creative skills that can enable businesses and organizations to harness these processes and use them to their best advantage.
This mode of thinking is new for many businesses which have tended to outsource their digital transformation strategy to larger consulting firms, such as Deloitte and Accenture. Now more organizations are seeing the advantages of doing this work in-house themselves.
"The problem with outsourcing is that you don't own the strategy," says Lemieux. "You really need someone who will understand the organization, the strategy, and the implementation, and will live with it, continue to progress, and grow with it."
Fostering Innovation
Digital transformation usually applies to four areas of an organization:
First, organizations may seek to transform their processes in order to lower costs, reduce cycle times, or increase performance.
Second, organizations may use digital technology to transform traditional business practices and redefine how value is delivered in their industry, a process sometimes known as "disruption."
Third, they may use digital technology to break into new markets and generate new revenue streams.
Finally, organizations may adopt digital transformation to promote agile workflow and foster a culture of innovation and entrepreneurship.
What makes the Georgetown Master's in Strategic Digital Transformation unique is that the curriculum has been designed in collaboration with top industry leaders. For example, Google provided access to subject matter experts in the areas of cloud computing and artificial intelligence, and arranged training and education on using Google-Developed AI tools and cloud services.
"Digital transformation is what drives businesses and entire industries forward," says Steven Butschi, director of education for Google Cloud. "[Georgetown's program] underscores the massive potential that organizations can realize when they fully embrace the digital age, and the broader market need for skilled professionals to help make digital transformations a reality."
Furthermore, adjunct faculty members also employed by today's leading companies contributed to the program's development through focus groups. Such companies include Afiniti, Amazon Web Services, Business-Higher Education Forum, Microsoft, and Telos.
In doing so they designed a program that goes beyond technology and considers a question whose answer is often elusive: How can an organization best use these tools to achieve its goals and mission?
"How do you design a successful strategy?" continues Lemieux. "How do you think about the use of digital solutions development? What are the cycles? Do you understand the full cycle of development of a digital solution? The timetable you're looking at? What kind of expertise will you need, depending on the type of solution?"
Those are the trillion-dollar questions, and Georgetown's Strategic Digital Transformation program prepares students to answer them.
Learn more