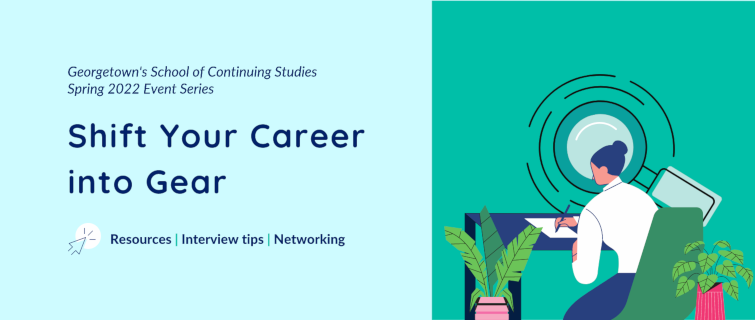 Are you looking to jumpstart your career in 2022? Georgetown's School of Continuing Studies is excited to host a spring career event series focused on offering resources, interview tips, and networking opportunities that leverage our extensive alumni network. Whether you're actively job hunting, pivoting to something new, or simply want to better equip yourself for your future career goals, this series is not to be missed!
Please join us at an upcoming event by visiting the RSVP pages linked below. We look forward to hosting you!
---
Jack Talk: Jorge Hinojosa
Date: Thursday, January 20
Time: 5:00 - 6:00 pm ET
Calling all sports enthusiasts, aspiring entrepreneurs, and branding and communications professionals! We're kicking off another year of engaging Jack Talk events with Sports Industry Management (SIM) alumnus Jorge Hinojosa. Jack Talks are informal events where an SCS grad returns to discuss their inspiring professional and/or personal journeys. Jorge is the General Manager at FootballCorp, a football-centric [i.e. American soccer] company innovating for fans and jersey collectors based in Panama. He is also the founder of Plus Quam Consulting, a consulting firm that helps athletes and sports organizations with their community engagement and CSR initiatives. Jorge currently lives in Mexico and has international experience in the private, public, and diplomatic sectors. Grab a happy hour drink of your choice and kick off the semester by attending this fun and informal networking event.
---
Flash Mentoring: Mastering Behavioral Interview Questions
Date: Wednesday, January 26
Time: 6:00 - 7:00 pm ET
We've all been there. You're sitting in a job interview that you've prepared extensively for, but one style of question stumps you. It's the classic: "tell me about a time you…" or "tell me about a situation in which…." The room is filled with an awkward silence while you quickly try to think of an experience that perfectly applies to the circumstances being described.
These are known as behavioral interview questions, and they can be some of the trickiest questions to answer in the moment. Vaibhav Bhagat, a 2017 graduate of the Master's in Technology Management program and a former Business Intelligence Engineer at Amazon, is a pro at tackling behavioral interview questions and is eager to share his tips and tricks with you. Whether you're actively job searching or simply want to better equip yourself to answer these types of questions in the future, this event will help you feel more confident and collected as you head into your next interview.
---
Dressing for Your New Career
Date: Thursday, January 27; Wednesday, February 9; Tuesday, March 15; Wednesday, April 6
Time: 6:00 - 7:00 pm ET
Georgetown SCS is excited to announce a series of events this spring in collaboration with the fashion subscription services Hyde Closet and Armoire. Covering a range of topics, these interactive and educational events will make sure that you have all the wardrobe wisdom you need to ensure your personal brand reflects the unparalleled education you've achieved at SCS for a successful career transformation. Upon registering for all sessions, you'll receive a free personal styling session from Hyde Closet and Armoire. All events will be held on Zoom; however, as we move further into Spring Semester, we may provide an update if in-person activities will be permitted depending on guidance from Georgetown's public health team. Learn more on the microsite and RSVP today!
Dressing for Your Career Search: Thursday, January 27 at 6:00 - 7:00 p.m. ET

In January you will learn the fundamentals of how to dress for your career search with style tips, hints for the best on-camera Zoom looks, and a Q&A session with fashion professionals.

Dressing for Your First Day: Wednesday, February 9 at 6:00 - 7:00 p.m. ET​

February's session will provide you with insights on how to dress for your specific industry with a fireside chat with panelists from a number of relevant professions.​

Dress to Reflect Your Authentic Self: Tuesday, March 15 at 6:00 - 7:00 p.m. ET​

The March event will help you identify your personal brand in a professional setting and give you some ideas of how to convey that through your attire. This session will include a discussion about fast fashion's harmful impact on the environment and offer tips on how to dress better and more sustainably while remaining true to your personal brand. ​

Dressing for the Summer and Beyond: Wednesday, April 6 at 6:00 - 7:00 p.m. ET​

The final event in April will include a fashion show with models showcasing different looks for summer. A fashion professional will teach you how to build out a wardrobe and how to put together individual looks.