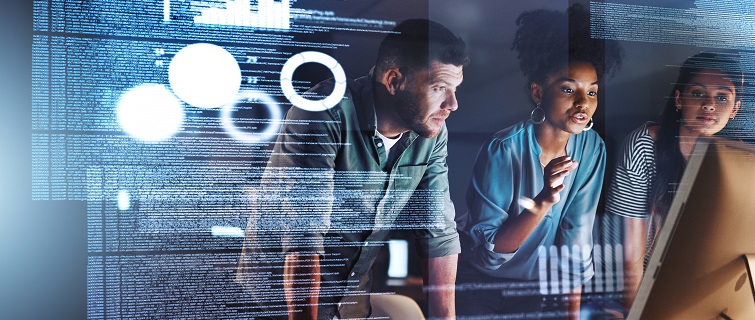 If you've ever used an app to order a rideshare, streamed music or a movie, or designed a living room from your couch then you've enjoyed the benefits of digital transformation. Sometimes conflated with its trendier moniker "disruption," digital transformation involves integrating digital technology into an organization to change how it operates internally and externally.
And we're not done yet. Not by a long shot.
Digital transformation is not something that's happened, it's something that's happening every day in organizations new and existing, real and imagined, large and small, public and private. And because digital transformation affects people (customers, employees, citizens), there's a very real analog component.
The industry is expanding and needs all kinds of people with all kinds of backgrounds. On the technology side, software developers, devops engineers, cloud specialists, AI developers, IoT architects, IT managers and support specialists, systems engineers, web developers and designers, UX designers, network administrators, system analysts, and database administrators will find a home. Those from the management side can include program managers, project coordinators, team leads, digital marketing coordinators, social media coordinators, and anyone with an interest in technology's impact on people.
Career Options for Strategic Digital Transformation Graduates
Careers in digital transformation are as varied as the organizations and ideas themselves. Here is a sampling of possible jobs in this exciting field.
Digital Strategist
Digital Strategists measure the effectiveness of assets and channels and share their insights with the marketing team in support of an effective strategy. The marketing team uses the insights of Digital Strategists to develop, execute, and track marketing programs across channels. If marketing is the "How," the Digital Strategists provide the "Why."
Change Management Lead / Advisor
Change management combines the human and technological sides of digital transformation into one discipline. A Change Management Lead or Advisor creates strategies to help organizations adopt change initiatives based on change management tools and best practices. In plain speak, Change Management Leads or Advisors must know the digital and analog sides of the business–the technology and how humans will use and benefit from it–and apply that knowledge to guide an organization from where it to where it wants to be.
Digital Transformation Manager
Digital Transformation Managers are ultimately responsible for translating digital solutions into human-centered policies to organize, develop, engage, measure, and incentivize a workforce. They convert, or transform, digital ideas to address real-world factors affecting the people who comprise an organization and can manage teams responsible for the same.
Digital Transformation Architect
If you're planning a road trip to a digital future, take a Digital Transformation Architect. They provide technical solutions for an organization's architecture from the roadmap to implementation–and can carry an intelligent industry conversation the whole time. Digital Transformation Architects will plan the trip, do the driving, and point out the attractions along the way.
Digital Transformation Analyst
Digital transformation requires thinking on one's feet, and a Digital Transformation Analyst can be thought of as a stand-up comedian or improvisationalist who takes questions from the audience. By supporting an organization's ability to adapt and improve the use of their data, a Digital Transformation Analyst can improve efficiency, predictability, and internal and external (audience/customer) satisfaction.
If you're looking to lead technological change in an organization, consider earning an online Master's in Strategic Digital Transformation from Georgetown University. With equal focus on artificial and emotional intelligence, our program delivers in a uniquely Georgetown way.
Learn more