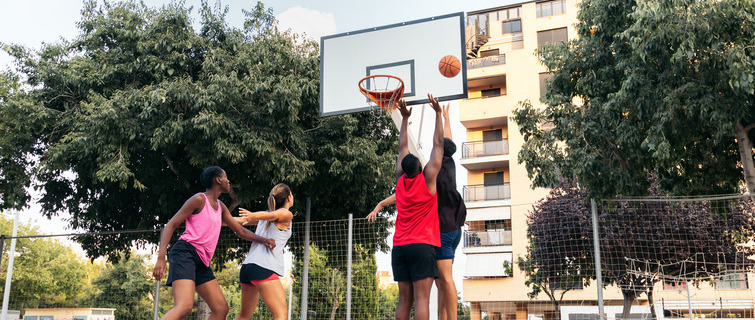 It's a provocative title, with all the audacity of a slam dunk.
"How Basketball Can Save the World" is the name New York University sports management professor David Hollander gave to his recently published book.
"It's a pretty grandiose statement," said Kerry O'Grady, Ed.D., Faculty Director of the Georgetown Master's in Public Relations & Corporate Communications program, who moderated a discussion with Hollander in March at the School of Continuing Studies.
"It is a grandiose statement," replied Hollander. "It's meant to be. It's meant to be a provocation."
How, exactly, can basketball save the world? To answer that question, you have to understand what basketball has meant to Hollander and, as he was soon to discover, to a lot of other people as well. It has lessons to offer those who play the game; those who watch; and those, like Dr. O'Grady, who have been able to apply its tenets to other fields and endeavors.
A Different Kind of Game
All sports foster discipline and teamwork, quick thinking and grace under pressure, but basketball—particularly pickup, playground basketball—is in a class by itself, Hollander said. It's played on a small court, where there are no barriers to entry and no designated positions.
"There's never been a more anti-hierarchical game ever invented," said Hollander, who is Assistant Dean of Real World and Clinical Professor for NYU's Preston Robert Tisch Institute for Global Sport.
Everyone plays offense and defense. Everyone must cooperate, even if they entered that space as perfect strangers. And, when it's played at its best, the result is even more than the sum of its parts. At its best, basketball transforms people, a process Hollander calls "human alchemy." It's no wonder, he says, that when James Naismith invented "Basket Ball" in 1891, using two peach baskets nailed to the wall of a gym in Springfield, Mass., he was concerned with much more than simply creating a new game. A Presbyterian minister, he had a strong social conscience (he detested segregation, for example) and believed that sports, played well, could have an ennobling effect on its participants.
Hollander's book began as an NYU course, which he proposed to university leaders in 2015. They thought it was, well, unusual, Hollander recalled.
"They're like, 'Yeah. No. That's really crazy,'" he said.
But they let him "pilot" the course in the summer, and that's when something amazing happened.
"The mere announcement got international attention," Hollander said. "I had 20 students from seven different programs at NYU for a non-required, undergraduate elective for the summer. That set a world record. A kid from Tulane came just because he had to be there—he had heard about it."
It wasn't long before a lot of people had heard about it—all over the world. In fact, according to NYU, in 2022 "major Italian media – la Repubblica, Corriere della Serra – credited Hollander and his class for helping sway the Vatican to recognize the first-ever Patron Saint of Basketball."
A Guide for Life
Hollander organized his course and his book around 13 guiding principles—homage to Naismith's original 13 rules—that track closely with what he has come to learn about the game over the years. Some of them are: Balance of Individual and Collective; No Barrier to Access; For the Outsider, the Other, and the Masses; Urban and Rural; and Gender Inclusive. The last two principles are Sanctuary and Transcendence.
O'Grady said Hollander's book has much to teach public relations students, who are pursuing an exciting, yet demanding and often stressful, career.
"The ability to be flexible, adaptable, and agile are the most important," O'Grady said. "Life doesn't come with templates. It's important to be ready for the unexpected and uncomfortable and embrace it. And, to be willing and able to jump into challenges with openness and not with resistance. PR is a field rooted in direct—and sometimes harsh—feedback, quick pivots, and high-stakes relationships. This is very much like the game of basketball itself. If you play PR like a game, and apply these principles, you'll almost always feel confident taking your shot."
One of Hollander's principles—"Positionless-ness"—is especially relevant to those studying or practicing communications, O'Grady said. There was once a time when basketball roles were more prescribed: for example, if a center could shoot and rebound from close range, that was pretty much all he or she had to do. Now, that has changed as basketball, like life itself, has become faster, multidimensional, and more complicated. Now, it's not unusual to see 6'10" players taking—and making—three-point shots, thus presenting new opportunities for their team and new challenges for their opponents.
"By being positionless, students open themselves up to learning material in different ways, and applying it to various jobs and opportunities," O'Grady said. "And, think of it this way: You're going to have different bosses in life, who will all want things done in different ways. The classroom is a great way to practice different styles."
Hollander's classroom—his other classroom—has been schooling him ever since his father put up a hoop in his driveway when he was in elementary school.
"This space of a basketball court gives me peace, it gives me balance, my relations with other people get right," he said. "It's my sanctuary, where the world makes sense, and I've found that so many other people feel the same way about this game."
Learn more