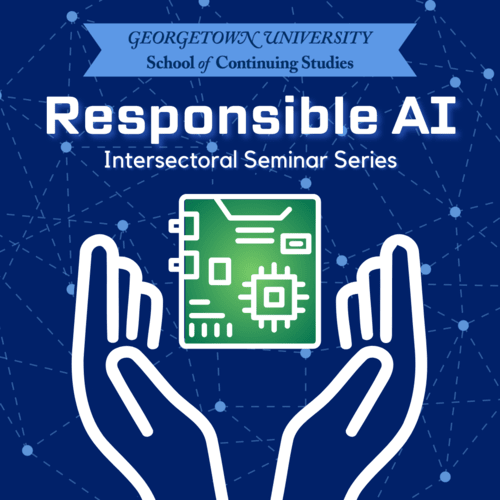 ​​The Responsible AI Intersectoral Seminar Series is a Georgetown School of Continuing Studies (SCS) initiative that bridges the gap between artificial intelligence (AI) innovation and ethical implementation. As AI continues to integrate into diverse sectors – from supply chain to marketing, human resources to cybersecurity – the need for responsible use becomes paramount. This series gathers experts from various fields, offering interdisciplinary perspectives on how to navigate the challenges of AI deployment. Attendees will gain insights into best practices, explore real-world applications, and engage in thought-provoking discussions about the future AI in several industries. Whether you are an AI enthusiast, industry professional, or curious individual, join us in exploring how AI can serve responsibly and efficiently.
Please see below for upcoming events; more information will be added in the coming weeks.
---
Saturation of Application: Community Integrity in the AI City
Hosted by the Master's in Urban & Regional Planning Program
Date: Thursday, January 18
Time: 6:00–7:30 p.m. ET
Event Info | RSVP
How are cities and communities developing applications and safeguards for AI deployment? With a wave of new codes of ethics being released by cities and professional associations, how is the agency of the city planner impacted? Stronger or weaker?
---
Embracing the Power of AI in Project Management
Hosted by the Master's in Project Management Program
Date: Thursday, February 1
Time: 6:00–7:30 p.m. ET
RSVP
---
AI in Sports
Hosted by the Master's in Sports Industry Management Program
Date: Thursday, February 15
Time: 6:00–7:30 p.m. ET
RSVP
---
AI in Marketing: Boosting Creativity Ethically
Hosted by the Master's in Integrated Marketing Communications Program
Date: Thursday, February 29
Time: 6:00–7:30 p.m. ET
RSVP
---
Journalism and AI
Hosted by the Master's in Journalism Program
Date: Tuesday, March 14
Time: 6:00–7:30 p.m. ET
RSVP
Learn more