Georgetown SCS
News & Events
URP Spring Speaker Series | Risk Is Opportunity: Resilience and Preparedness As the Basis of Long-term Planning
---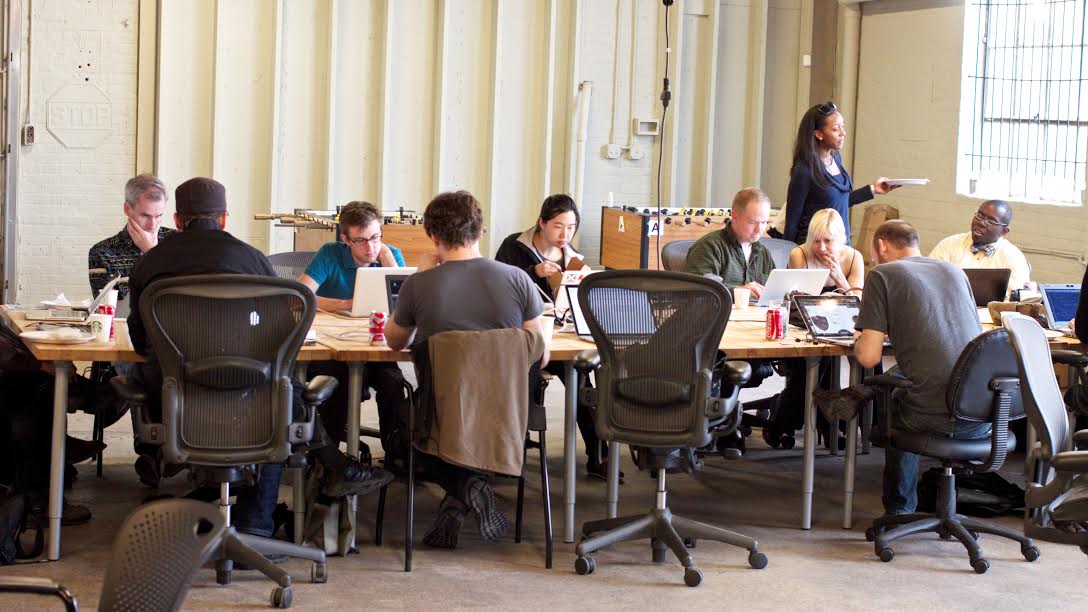 Members of Code for DC gathered at a recent hackathon. Technology, innovation, and social engagement are disrupting systems across governments and industries. (Photo Credit: Code for DC)
The Urban & Regional Planning program is proud to present its Spring 2015 public lecture series, The City Disrupted. Building on last fall's exploration of large urban investments, the spring lectures will explore short-term transformations in cities driven by the impacts of new technologies, shifting economies, the environment, new social networks, or governance.
Stakeholders from across the university and the community will join us in a series of dialogues that seek to answer the question: Where does community stewardship reside in the disrupted city?
Details for specific events are listed below. These events are free and open to the public, so we strongly encourage you to RSVP in advance to ensure your seat.
The series is hosted in the auditorium of the Georgetown downtown campus at 640 Massachusetts Avenue, NW—conveniently located within walking distance of stations serving all Metro lines.
---
Risk is Opportunity: Resilience and Preparedness As the Basis of Long-term Planning
Wednesday, March 18, 2015, 5:30 to 7:00 p.m.
Unanticipated disasters and black swan events help catalyze reflections on community vulnerabilities. How are the concepts of individual preparedness and community resilience informing a new generation of professional practices to plan communities and shape our urban environments?
Discussion Leaders:
Randall Griffin, Owner and Principal Consultant for Safety Analytics, Station Captain with the DeWitt Fire District, and Visiting Professor of the Practice, Georgetown Emergency and Disaster Management Program
David J. Kaufman, Vice President and Director, CNA Safety and Security Center
Trisha Miller, Senior Advisor, Office of Economic Resilience, U.S. Department of Housing and Urban Development
Josh Murphy, Senior Spatial Analyst, Coastal Services Center, National Oceanic and Atmospheric Administration
Co-Hosted by the Emergency and Disaster Management Program.

Georgetown SCS
640 Massachusetts Ave. NW
Washington, District of Columbia 20001
Add to Calendar
2015-03-18 17:30
2015-03-18 19:00
America/New_York
URP Spring Speaker Series | Risk Is Opportunity: Resilience and Preparedness As the Basis of Long-term Planning
Members of Code for DC gathered at a recent hackathon. Technology, innovation, and social engagement are disrupting systems across governments and industries. (Photo Credit: Code for DC) The Urban & Regional Planning program is proud to present its Spring 2015 public lecture series, The City Disrupted. Building on last fall's exploration of large urban investments, the spring lectures will explore short-term transformations in cities driven by the impacts of new technologies, shifting economies, the environment, new social networks, or governance.  Stakeholders from across the university and the community will join us in a series of dialogues that seek to answer the question: Where does community stewardship reside in the disrupted city? Details for specific events are listed below. These events are free and open to the public, so we strongly encourage you to RSVP in advance to ensure your seat. The series is hosted in the auditorium of the Georgetown downtown campus at 640 Massachusetts Avenue, NW—conveniently located within walking distance of stations serving all Metro lines. Risk is Opportunity: Resilience and Preparedness As the Basis of Long-term Planning Wednesday, March 18, 2015, 5:30 to 7:00 p.m. Unanticipated disasters and black swan events help catalyze reflections on community vulnerabilities.  How are the concepts of individual preparedness and community resilience informing a new generation of professional practices to plan communities and shape our urban environments? Discussion Leaders: Randall Griffin, Owner and Principal Consultant for Safety Analytics, Station Captain with the DeWitt Fire District, and Visiting Professor of the Practice, Georgetown Emergency and Disaster Management Program  David J. Kaufman, Vice President and Director, CNA Safety and Security Center Trisha Miller, Senior Advisor, Office of Economic Resilience, U.S. Department of Housing and Urban Development Josh Murphy, Senior Spatial Analyst, Coastal Services Center, National Oceanic and Atmospheric Administration Co-Hosted by the Emergency and Disaster Management Program.  
Georgetown SCS , 640 Massachusetts Ave. NW Washington, District of Columbia, United States 20001
MM/DD/YYYY
Georgetown University
School of Continuing Studies
640 Massachusetts Ave NW
Washington, DC 20001
(202) 687-8700