Georgetown SCS
News & Events
2016 Graduate Coaches Conference
---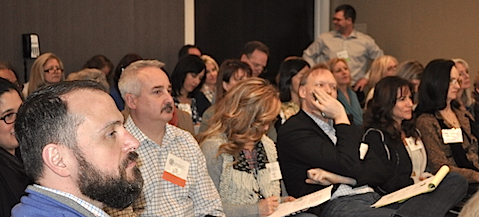 Registration is now open for the 2016 Graduate Coaches Conference, Transformation! Coaching the Shift.
Join us for two days of community reunion, inspiring conversation, innovative ideas, and experiential workshops to support your continued growth as a leadership coach.
Please note: this conference is only open to graduates of Georgetown University's Certificate in Leadership Coaching and Executive Certificate in Transformational Leadership.
THIS YEAR'S THEME
Transformation means far more than ordinary change. Transformation is a lasting shift that forever changes people, organizations, and the world. It's a change from which there is no going back.
The objective of the conference is create a dynamic atmosphere that fosters a deepening of our knowledge of transformation and inspires a commitment to coaching the shift.
At Georgetown, we believe that transformation occurs when human beings can sustain seeing, saying, doing, and being, in a significantly different way. The conference this year will feature those four paths.
AGENDA
A draft of this year's agenda can be found here, and an overview of each session can be found here.
LOCATION
The conference will be held at the Hilton McLean Tysons Corner, conveniently located on Washington Metro's new Silver Line and featuring ample on-site parking. For those flying in, the hotel is located just 15 minutes from Dulles International Airport and 20 minutes from Reagan National Airport.
Hilton McLean - Tysons Corner
Add to Calendar
2016-03-10 10:00
2016-03-11 15:00
America/New_York
2016 Graduate Coaches Conference
Registration is now open for the 2016 Graduate Coaches Conference, Transformation! Coaching the Shift. Join us for two days of community reunion, inspiring conversation, innovative ideas, and experiential workshops to support your continued growth as a leadership coach.  Please note: this conference is only open to graduates of Georgetown University's Certificate in Leadership Coaching and Executive Certificate in Transformational Leadership. THIS YEAR'S THEME Transformation means far more than ordinary change. Transformation is a lasting shift that forever changes people, organizations, and the world. It's a change from which there is no going back. The objective of the conference is create a dynamic atmosphere that fosters a deepening of our knowledge of transformation and inspires a commitment to coaching the shift. At Georgetown, we believe that transformation occurs when human beings can sustain seeing, saying, doing, and being, in a significantly different way. The conference this year will feature those four paths. AGENDA A draft of this year's agenda can be found here, and an overview of each session can be found here. LOCATION The conference will be held at the Hilton McLean Tysons Corner, conveniently located on Washington Metro's new Silver Line and featuring ample on-site parking. For those flying in, the hotel is located just 15 minutes from Dulles International Airport and 20 minutes from Reagan National Airport. Buy Your Tickets Here  
Hilton McLean - Tysons Corner
MM/DD/YYYY