Georgetown SCS
News & Events
Apple Picking at City Orchard
---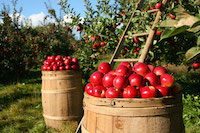 All SCS students, faculty, and staff are invited to participate in a fall day of service to support Bread for the City, a local non-profit organization.
Volunteers will help tend and harvest Asian pears and apples at City Orchard in Beltsville, MD.
Students will meet at the School of Continuing Studies at 8:30 a.m. for a complimentary breakfast. Transportation to City Orchard will be provided.
When: Saturday, October 10
Complimentary breakfast: 8:30 – 9:15 a.m. School of Continuing Studies
Volunteer event: 10:00 a.m. – 1:00 p.m. City Orchard, Beltsville, MD.
About City Orchard: City Orchard is a 2.75 acre organic fruit orchard in nearby Beltsville, MD. This orchard contains more than 2,500 trees and bushes, including apple, Asian pear, persimmon, blueberry and blackberry. These plants will yield upwards of 45,000 lbs. of fresh fruit — all of which will be distributed to DC residents in need through Bread for the City's two food pantry locations.
Attire: Volunteers are advised to wear long sleeves and pants that can get dirty; sturdy closed-toed shoes; and hats. Sunscreen is highly advised.
What to Bring With: We ask volunteers to please come prepared with a water bottle and bag lunch/snacks.
Waivers: You will need to complete two waivers to participate in City Orchard volunteer activities, one for Bread for the City, and one for the University of the District of Columbia. Please complete the waivers ahead of time and bring them with you.
Get social! Follow and tweet at Bread for the City at @BreadfortheCity and use #CityOrchard. Be sure to tag @GeorgetownSCS.
RSVP Closed
City Orchard
Add to Calendar
2015-10-10 08:30
2015-10-10 13:00
America/New_York
Apple Picking at City Orchard
All SCS students, faculty, and staff are invited to participate in a fall day of service to support Bread for the City, a local non-profit organization.  Volunteers will help tend and harvest Asian pears and apples at City Orchard in Beltsville, MD.  Students will meet at the School of Continuing Studies at 8:30 a.m. for a complimentary breakfast. Transportation to City Orchard will be provided. When: Saturday, October 10 Complimentary breakfast: 8:30 – 9:15 a.m. School of Continuing Studies Volunteer event: 10:00 a.m. – 1:00 p.m. City Orchard, Beltsville, MD. About City Orchard: City Orchard is a 2.75 acre organic fruit orchard in nearby Beltsville, MD. This orchard contains more than 2,500 trees and bushes, including apple, Asian pear, persimmon, blueberry and blackberry. These plants will yield upwards of 45,000 lbs. of fresh fruit — all of which will be distributed to DC residents in need through Bread for the City's two food pantry locations. Attire: Volunteers are advised to wear long sleeves and pants that can get dirty; sturdy closed-toed shoes; and hats. Sunscreen is highly advised. What to Bring With: We ask volunteers to please come prepared with a water bottle and bag lunch/snacks.  Waivers: You will need to complete two waivers to participate in City Orchard volunteer activities, one for Bread for the City, and one for the University of the District of Columbia. Please complete the waivers ahead of time and bring them with you. Get social! Follow and tweet at Bread for the City at @BreadfortheCity and use #CityOrchard. Be sure to tag @GeorgetownSCS. RSVP Closed
City Orchard
MM/DD/YYYY
Georgetown University
School of Continuing Studies
640 Massachusetts Ave NW
Washington, DC 20001
(202) 687-8700