Georgetown SCS
News & Events
Hoya Pitchmasters: TEDx Talks
---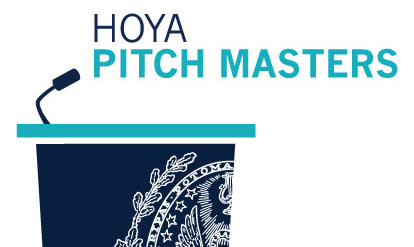 A TEDx talk is a showcase for spreading great, well-informed ideas in under 18 minutes. There are four content guidelines: 1) No selling from the stage; 2) No political agendas; 3) No religious proselytizing; and 4) Only good science.
For this Hoya Pitchmasters session, learn from two TEDx Speakers: Julia Dixon, who presented on Using Your Social Currency to Support Global Causes, and Rohit Bhargava, who presented on Reinventing Marketing and The Likeability Gap.
Hoya Pitchmasters is a group hosted by the PR and Corporate Communications program created to give SCS students the chance to work on building confidence and skills in public speaking in a supportive environment without a grade on the line. Attendees are expected to give comprehensive feedback to presenters, and every session focuses on tips and tricks to improve public speaking and pitching skills. If you feel up to it, you can even sign up to speak at a future session!
Please note that this event is exclusively for SCS students and alumni. Check out our YouTube channel for videos from our previous sessions!

Georgetown SCS
C127
Add to Calendar
2015-11-19 18:00
2015-11-19 19:30
America/New_York
Hoya Pitchmasters: TEDx Talks
A TEDx talk is a showcase for spreading great, well-informed ideas in under 18 minutes. There are four content guidelines: 1) No selling from the stage; 2) No political agendas; 3) No religious proselytizing; and 4) Only good science.  For this Hoya Pitchmasters session, learn from two TEDx Speakers: Julia Dixon, who presented on Using Your Social Currency to Support Global Causes, and Rohit Bhargava, who presented on Reinventing Marketing and The Likeability Gap. Hoya Pitchmasters is a group hosted by the PR and Corporate Communications program created to give SCS students the chance to work on building confidence and skills in public speaking in a supportive environment without a grade on the line. Attendees are expected to give comprehensive feedback to presenters, and every session focuses on tips and tricks to improve public speaking and pitching skills. If you feel up to it, you can even sign up to speak at a future session!  Please note that this event is exclusively for SCS students and alumni. Check out our YouTube channel for videos from our previous sessions!  
Georgetown SCS , C127
MM/DD/YYYY
Georgetown University
School of Continuing Studies
640 Massachusetts Ave NW
Washington, DC 20001
(202) 687-8700