Georgetown SCS
News & Events
The Artist and the Authorities; A Lecture by Mikhail Ovchinnikov (4/13)
---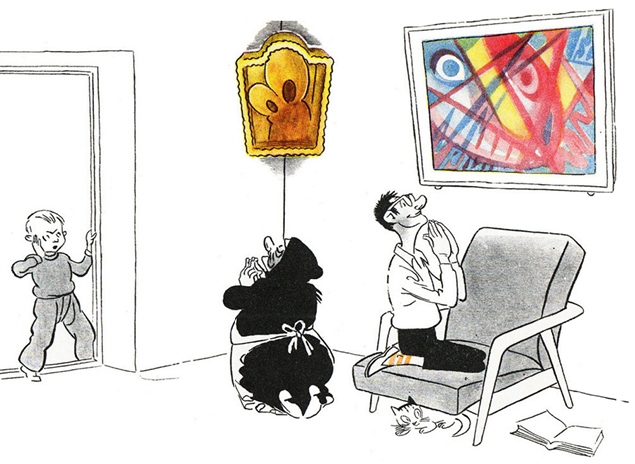 Graduate Liberal Studies cordially invites students, faculty, alumni, prospective students, and guests for a lecture:

THE ARTIST AND THE AUTHORITIES, OR ILLUMINATING EPISODES FROM THE HISTORY OF RUSSIAN ART OF THE 20TH AND 21ST CENTURIES
by Mikhail Ovchinnikov,
first deputy director, Faberge Museum in St. Petersburg

Schedule:
Wednesday, April 13, 2016
6:00 p.m. Reception
7:00 p.m. Lecture followed by Q&A

About the Speaker:
Mikhail Ovchinnikov is the first deputy director of Fabergé Museum and director of The Link of Times Foundation branch in St. Petersburg. He previously worked in the field of modern and contemporary Russian art. His positions included the director of Erarta Museum of Contemporary Art, deputy director of St. Petersburg Union of Artists and curator in the Avant-garde on Neva Publishing and Exhibition Project. His current memberships include Public Council of Museum of Central Bank of Russian Federation and International Jury of the Portrait Now! Competition run by Museum of National History of Denmark.

A Community of Artists:
As a special part of the evening, some artists in our Graduate Liberal Studies community will have their work displayed. We invite you to tour the art of our faculty, staff, and students in the lobby outside of the auditorium.

Getting Here:
For a campus map and driving directions, please refer to the below links. If you plan to drive, please park in the Southwest Garage (use 3611 Canal Road as the address for directions using GPS). This is the garage for university visitors.

Campus Map
Driving Directions

Accommodation Requests:
Accommodation requests related to a disability should be made by as soon as possible by calling 202-687-5706 or emailing riddera@georgetown.edu at least five (5) business days prior to the event. A good faith effort will be made to fulfill requests received after that point.

Exhibition Opening:
Mikhail Ovchinnikov will also be an honored guest and provide opening remarks at a new exhibition titled "Circuitous Roots: A Celebration of Art", presented by Robert Murray (BALS '76 and MALS '01). Several Liberal Studies faculty, staff, students, and alumni will be displaying pieces made by their own hand at the exhibition as well. The event will be held on April 16, 2016 from 10:00 a.m.-1:00 p.m. at George Washington's River Farm on the Potomac, 7931 East Boulevard, Alexandria, VA 22308. Mr. Ovchinnikov's remarks will begin at 11:30 a.m.

This event is hosted by the Department of Art & Art History and Graduate Liberal Studies at Georgetown University, which includes a Master of Arts in Liberal Studies and a Doctor of Liberal Studies.
Georgetown University Main Campus
37th & O Sts, NW , The Intercultural Center Auditorium
Washington, District of Columbia 20057
Add to Calendar
2016-04-13 18:00
2016-04-13 20:30
America/New_York
The Artist and the Authorities; A Lecture by Mikhail Ovchinnikov (4/13)
Graduate Liberal Studies cordially invites students, faculty, alumni, prospective students, and guests for a lecture: THE ARTIST AND THE AUTHORITIES, OR ILLUMINATING EPISODES FROM THE HISTORY OF RUSSIAN ART OF THE 20TH AND 21ST CENTURIES by Mikhail Ovchinnikov, first deputy director, Faberge Museum in St. Petersburg Schedule: Wednesday, April 13, 2016 6:00 p.m. Reception 7:00 p.m. Lecture followed by Q&A About the Speaker: Mikhail Ovchinnikov is the first deputy director of Fabergé Museum and director of The Link of Times Foundation branch in St. Petersburg. He previously worked in the field of modern and contemporary Russian art. His positions included the director of Erarta Museum of Contemporary Art, deputy director of St. Petersburg Union of Artists and curator in the Avant-garde on Neva Publishing and Exhibition Project. His current memberships include Public Council of Museum of Central Bank of Russian Federation and International Jury of the Portrait Now! Competition run by Museum of National History of Denmark. A Community of Artists: As a special part of the evening, some artists in our Graduate Liberal Studies community will have their work displayed. We invite you to tour the art of our faculty, staff, and students in the lobby outside of the auditorium. Getting Here: For a campus map and driving directions, please refer to the below links. If you plan to drive, please park in the Southwest Garage (use 3611 Canal Road as the address for directions using GPS). This is the garage for university visitors. Campus Map Driving Directions Accommodation Requests: Accommodation requests related to a disability should be made by as soon as possible by calling 202-687-5706 or emailing riddera@georgetown.edu at least five (5) business days prior to the event. A good faith effort will be made to fulfill requests received after that point. Exhibition Opening: Mikhail Ovchinnikov will also be an honored guest and provide opening remarks at a new exhibition titled "Circuitous Roots: A Celebration of Art", presented by Robert Murray (BALS '76 and MALS '01). Several Liberal Studies faculty, staff, students, and alumni will be displaying pieces made by their own hand at the exhibition as well. The event will be held on April 16, 2016 from 10:00 a.m.-1:00 p.m. at George Washington's River Farm on the Potomac, 7931 East Boulevard, Alexandria, VA 22308. Mr. Ovchinnikov's remarks will begin at 11:30 a.m. This event is hosted by the Department of Art & Art History and Graduate Liberal Studies at Georgetown University, which includes a Master of Arts in Liberal Studies and a Doctor of Liberal Studies. RSVP:
Georgetown University Main Campus , 37th & O Sts, NW , The Intercultural Center Auditorium Washington, District of Columbia, United States 20057
MM/DD/YYYY
Georgetown University
School of Continuing Studies
640 Massachusetts Ave NW
Washington, DC 20001
(202) 687-8700