Georgetown University's Center for Social Impact Communication 15-Year Anniversary Celebration
4 DEC
5:30 – 8:30PM ET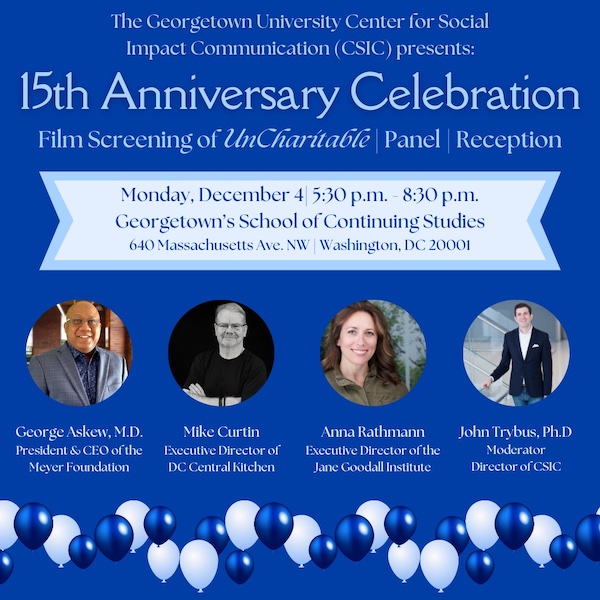 Join us to commemorate the 15th anniversary of Georgetown University's Center for Social Impact Communication (CSIC) through a special program. Together we will celebrate CSIC's accomplishments in educating and convening new approaches to social change, while also looking to what the future of social impact may hold.
5:30 - 7:00 p.m. – Exclusive screening of the new UnCharitable documentary

7:00 - 7:30 p.m. – Discussion on the future of social impact with George Askew, M.D., President & CEO of the Meyer Foundation, Mike Curtin, Executive Director of DC Central Kitchen and Anna Rathmann, Executive Director of the Jane Goodall Institute | Moderated by Professor John Trybus, Ph.D., CSIC's Director

7:30 p.m. – Reception
Please note that there will also be an opportunity to learn more about the social impact programs at Georgetown's School of Continuing Studies.
Georgetown SCS Auditorium & Level 2 Overlook
640 Massachusetts Ave NW
Washington, District of Columbia 20001
Add to Calendar
2023-12-04 17:30
2023-12-04 20:30
America/New_York
Georgetown University's Center for Social Impact Communication 15-Year Anniversary Celebration
{% load static %} RSVP Join us to commemorate the 15th anniversary of Georgetown University's Center for Social Impact Communication (CSIC) through a special program. Together we will celebrate CSIC's accomplishments in educating and convening new approaches to social change, while also looking to what the future of social impact may hold. 5:30 - 7:00 p.m. – Exclusive screening of the new UnCharitable documentary 7:00 - 7:30 p.m. – Discussion on the future of social impact with George Askew, M.D., President & CEO of the Meyer Foundation, Mike Curtin, Executive Director of DC Central Kitchen and Anna Rathmann, Executive Director of the Jane Goodall Institute | Moderated by Professor John Trybus, Ph.D., CSIC's Director 7:30 p.m. – Reception Please note that there will also be an opportunity to learn more about the social impact programs at Georgetown's School of Continuing Studies. RSVP  
Georgetown SCS Auditorium & Level 2 Overlook , 640 Massachusetts Ave NW Washington, District of Columbia, United States 20001
MM/DD/YYYY
Choose Your Term
We are transitioning to a new system for applications to the Spring 2019 term and later. Please select the term of your application: