Master's in Systems Engineering Management
Matthew Reyes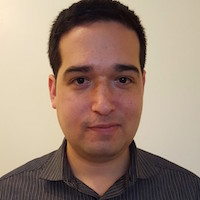 Transitioning from one military assignment to another is never easy, said Matthew Reyes, a nine-year veteran of the U.S. Army who spent much of his career in Geospatial Intelligence (GEOINT). While the complexity of military tasks demands certain protocols, just how those protocols are approached can vary significantly among units.
"There's a huge learning curve," said Capt. Reyes, a 2016 graduate of Georgetown's Systems Engineering Management master's program. "You have to adapt."
But Reyes had a distinctly different experience when graduating from the program last June and moving to his current position as a geographer for the U.S. Census Bureau.
"Walking into this job at the Census Bureau was a smooth transition," Reyes said. "I saw that I had done this before—and my supervisors noticed too."
At the Census Bureau, Reyes maintains and updates a public-facing map of the United States that charts the progress that states, counties, and other jurisdictions have made in providing address data for the Geographic Support System Initiative (GSS-I), which will be used in the upcoming 2020 census. He also writes Systems Requirement Specifications (SRS) that update and redesign the Census Bureau's internal partnership database, the Geographic Program Participant Database (GPP).
Georgetown's program allowed Reyes to fit his classes around a full-time job. He and his classmates were part of the program's first cohort; they were a tight-knit group during their Georgetown days and have maintained close contact since.
But most important to Reyes is the way the program prepared him for the work he does every day.
"I'm taking the ideas I learned from many of my classes and putting them into practice now, especially with systems engineering and project management," Reyes said. "I do draw back on what I learned at Georgetown."