Master's in Systems Engineering Management
Cliff Louden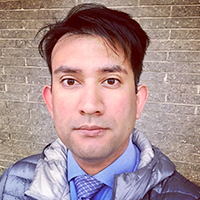 Cliff Louden is a Management Analyst at the Naval Sea Systems Command (NAVSEA), and to describe exactly what he does there would take a lot of capital letters.
His current job is supporting Submarine Safety (SUBSAFE) and Quality Assurance on Fly-by-Wire (FBW) Ship Control Systems (SCS).
Put another (simpler) way, he works on current and future Navy submarines.
"It takes a systems engineer to be able to grasp the big picture," Louden said. "Because a submarine is an enormous platform to wrap your head around."
A 2016 graduate of Georgetown's Systems Engineering Management master's program, Louden is now in a two-year program at NAVSEA that introduces him to various project teams, with the idea of rapidly gaining enterprise-wide experience.
"The goal is to impress them enough so they will want me on their team," said Louden, who has a good sense of humor and takes his job—but not himself—very seriously. (A LinkedIn synopsis notes: "I was born in Japan; my favorite color is blue; and sometimes, just sometimes … I have good ideas.")
One of his best ideas was deciding to come to Georgetown.
"The Georgetown program made me stand out to get selected" for the NAVSEA assignment, Louden said.
A self-described "Navy brat," Louden has lived (in addition to Japan) in Spain, the Philippines, and on both U.S. coasts. He said he appreciated Georgetown's mix of practical and theoretical knowledge and the fact that "the professors were practitioners of what they were teaching." He found the professional ethics course especially meaningful.
"It was challenging," he said. "As an engineer, you look at the 'ones and zeros,' but there's more to it than that."