Master's in Systems Engineering Management
Michael Lamos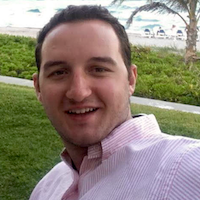 When Michael Lamos talks about his systems engineering job at Leidos—a contractor for defense, engineering, and healthcare projects—he mentions not only the abundant intellectual challenges but also the strong sense of teamwork that the company inspires.
"I'm really fortunate to be in such a nicely ingrained program culture," said Lamos, who graduated from Georgetown's Systems Engineering Management program in 2017. "The support we receive, the focus on mission and the customer's needs—it's a really cohesive environment."
An environment much like that of the program itself, where Lamos developed a strong bond with like-minded people who enjoyed discussing the profession and sharing ideas. They became friends and colleagues and keep up with each other to this day.
As an undergraduate at Catholic University, Lamos majored in mechanical engineering with a specialty in aerospace. While working in quality assurance and production control for Jetcraft Aerostructures Inc., he decided to pursue systems engineering and applied to Georgetown.
"I see it as a kind of technical MBA," Lamos said. "You're supposed to understand the technical aspects of engineering, but you have the facility and mindset to understand the bigger-picture idea."