Master's in Systems Engineering Management
Anne-Stewart "Stewi" Corno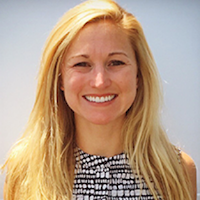 As a Systems Engineering Management student at Georgetown, Anne-Stewart "Stewi" Corno was struck by the program's hands-on, real-world focus.
"I like that everything I'm learning in school I'm applying immediately at work," said Corno, then a project manager for Space Systems at Northrop Grumman Corporation.
And apply it she did. After a year in the program, she was promoted to senior manager for Space Systems. And six months after that—it was shortly after she completed her degree and received the Outstanding Student Award at Georgetown's Tropaia Celebration—she was named senior account delivery executive for Microsoft, a role that leverages both the systems engineering and project management skills she honed at Georgetown.
Corno grew up in Northern Virginia in a family that emphasized hard work, self-confidence, and academic achievement. She and her siblings also loved sports, a passion Corno took to the University of North Carolina at Chapel Hill, where she played on its national championship field hockey team.
She enjoyed science but majored in communications, expecting to get into broadcasting or sports marketing. But after a few years working in marketing and as a field hockey coach, she changed fields to become a business development operations manager at Northrop Grumman's headquarters in Washington, D.C. When she transferred to California and began work as an analyst in the company's aerospace system, her passion for science was rekindled.
Still, pursuing a technology career was a leap. But a mentor assured her that she was qualified and did not need an engineering degree to succeed. "You're smart; you can do this job," Corno remembered her saying. That boosted her confidence—so much, in fact, that she ended up pursuing that engineering degree as well.