Neighborhood Life
The School of Continuing Studies' downtown campus is located in one of Washington, D.C.'s most vibrant and accessible neighborhoods. Students, faculty, staff, alumni, professionals and community leaders will find hundreds of neighborhood amenities at their doorstep as well as comprehensive transportation options. The campus is located approximately six blocks from the Georgetown University Law Center and four blocks from the Verizon Center, home of Georgetown Hoyas men's basketball.
Amenities

Situated in the dynamic and growing Gallery Place/Chinatown neighborhood, the campus is located near Mount Vernon Square and is in close proximity to Penn Quarter, Union Station and Capitol Hill. Within walking distance are popular restaurants and cafés, retail shops and services, museums and hotels as well as the Verizon Center.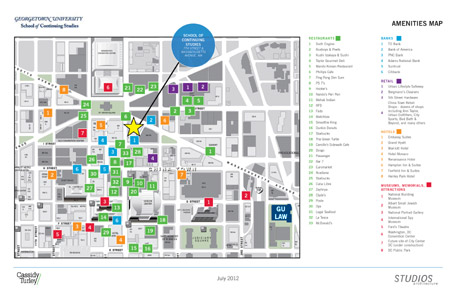 Click map to view in larger detail.
Industry Connections

A cardinal component of SCS's strategic vision is to harness strong partnerships and relationships with industry experts and organizations from the local community. Our downtown location allows for rich connections to be made between students and their industries and fields of study. The surrounding neighborhood is home to hundreds of companies and organizations most relevant to the School's programming, including: public relations firms; journalism, communication and media organizations; sports industry companies; human resources agencies; government agencies; non-profit organizations; and more.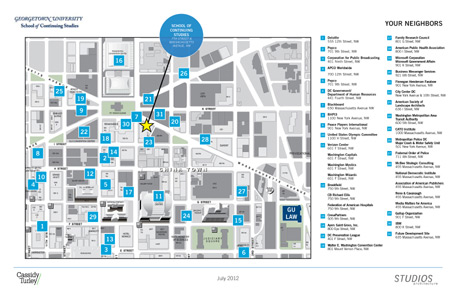 Click map to view in larger detail.