Spiritual Life
Georgetown has a rich Catholic and Jesuit faith tradition that promotes interreligious dialogue and understanding. Our community integrates faith and learning with a commitment to help each member develop his or her unique faith life through worship, reflection and service.
The University's Campus Ministry staff includes chaplains from the Roman Catholic, Protestant, Orthodox Christian, Jewish and Muslim traditions and supports student groups who pray in a variety of other traditions, including Bahá'í, Buddhist, Hindu, Humanist, Latter-Day Saints and Sikh traditions. Our community also welcomes students, faculty and staff with no explicit faith tradition and encourages those with questions about faith to contact Campus Ministry staff.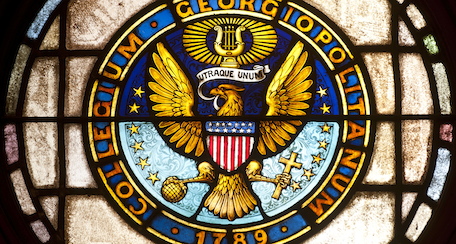 Spiritual Services
Group Meditation
When: Every Tuesday & Thursday
Time: 4:00 to 4:30 p.m.
Where: SCS Interfaith Chapel
Georgetown University School of Continuing Studies
No RSVP Required
Additional Campus Resources
SCS students are encouraged to connect with Georgetown's Campus Ministry staff affiliated with the Georgetown University Law Center (GULC), which is a one-half mile walk from SCS. Chaplains are available to meet by appointment, and SCS students are invited to join the GULC community for Prayer & Worship Services and Events. Please visit their homepage for more information.