Master of Professional Studies in Real Estate
Master of Professional Studies in Real Estate: Developing Real Estate Leaders
Real estate offers an unparalleled range of career opportunities. It is the ultimate service business.
The Master of Professional Studies in Real Estate program introduces students to the vastness, impact, and excitement of this extraordinary industry. The program's location in Washington, DC, one of the top real estate markets in the world, combined with the resources of Georgetown University, affords the Master's in Real Estate program the rare capability to bring virtually all aspects of real estate under one roof. The curriculum is one of the most comprehensive and advanced anywhere.
Distinctive features of the Master's in Real Estate program include the following:
The program fully integrates both development and finance aspects of the real estate industry.
Real Estate and construction are both emphasized in this program.
Environmental and energy issues are addressed at every phase of the real estate process.
Not only is U.S. real estate covered, but the program also takes a vanguard role in promoting international real estate study and practice.
The curriculum not only teaches real estate technique, but also strives to develop real estate leaders.
The MPS Real Estate program emphasizes both private and public sector real estate throughout its curriculum.
The program not only focuses on the business aspects of real estate but also the design elements.
The curriculum touches on corporate real estate which is often ignored by other real estate programs.

With a faculty of 100 committed practitioners teaching some 50 real estate courses to over 250 students from across the nation and around the world, the Master's in Real Estate program is developing leaders who can comprehensively solve the most challenging problems for the best organizations in the real estate industry.
We welcome applicants from liberal arts, business, engineering, design, environmental, international, and other backgrounds seeking to become members of our real estate community. Help us to build a region wide, nationwide, and worldwide network of advanced Georgetown real estate professionals.
Video Highlight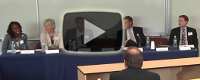 Georgetown University Annual Career Fair Round Table 2014
Watch Now