Information for Veterans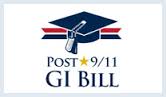 Georgetown CCPE welcomes student-veterans. Many veterans have completed our professional certificate programs as a means to advance their careers. They bring a wealth of experience and knowledge into our classrooms, campus, and community. Student-veterans also embody Georgetown's core value of Women and Men for Others, a call to service.
Our Eligible Programs
A variety of CCPE's certificate programs are eligible for funding through the Department of Veterans Affairs and under various parts of the GI Bill. We have created this site as a resource for student-veterans.
To get started, please view a list of our eligible programs.
Who to Contact
Students who have access to VA Benefits must work directly with the VA to ensure eligibility for education benefits and that all paperwork required for reimbursement is complete. For questions about your eligibility, please contact the VA at (888) 442-4551.
For questions regarding our programs or about the process, please contact the Georgetown CCPE VA Certifying Official at (202) 784-7321 or ccpevabenefits@georgetown.edu.
Using Your VA Benefits at Georgetown CCPE
Follow these steps to use your VA education benefits for non-credit professional certificate programs at Georgetown University:
If appropriate, contact the VA to determine your eligibility. Also, review a list of our eligible programs.
If you decide to enroll, create your Georgetown student profile. There is no cost to create your profile. Please note you are required to provide your Social Security Number when you create your profile so that the university can certify your enrollments.
Prior to registration, complete the CCPE VA Benefits Request Application Form and upload a copy of your Certificate of Eligibility using the upload widget below. Our office will not process your registration until your application is complete and has been received.
After you are approved, register for your courses online. For payment:

Post-9/11 GI Bill: Select "Veterans Benefits" as mode of payment at time of registration. No up-front payment is required.
Montgomery GI Bill: You must pay course balance prior to the start of each course by credit card. Select credit card or payment plan at time of registration. Do not select "Veterans Benefits" as method of payment at time of registration. Students will receive monthly reimbursement from the VA. For questions regarding the amount of reimbursement, please contact the VA directly.

Your enrollments will be reported and certified to the VA by the Certifying Official as soon as possible. It is your responsibility to report any changes in your enrollment (withdrawing or transferring) or status to the Certifying Official.