Program Leadership
Welcome to Georgetown University's Master of Professional Studies in Journalism program.
Modern journalism is in a time of transition and innovation. Emerging technologies require today's journalists not only to expand their storytelling toolboxes, but also to anticipate—and even build—the tools they need for the future. Never before have there been so many opportunities for digital and entrepreneurial journalists.
To succeed in the new landscape of the industry, we believe that the most important attributes of a journalist are curiosity and initiative, and we seek to foster those qualities in our students. At Georgetown, our journalism education does not just include "digital skills." Our curriculum is driven by a digital outlook and an entrepreneurial state of mind that are built on the foundation of ethics and accuracy.
One of the many things that sets our program apart is the diversity and relevance of our faculty. You can expect to be taught by working journalists and hear from award-winning guest speakers and lecturers. They are the best at what they do, and they have a passion for teaching and preparing the next generation of journalists and media professionals.
As new tools, trends, and job titles emerge, our adaptive, applied curriculum allows students to take a strategic approach to their education. Our program embraces a cross-platform approach to learning and emphasizes critical thinking to ensure that our students graduate with a comprehensive skill set that primes them for success in this rapidly changing industry.
We look forward to welcoming you to the Georgetown University community and guiding you toward the next step in a successful journalism career.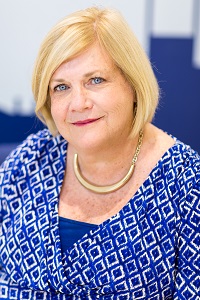 Denise Keyes
Senior Associate Dean
Division of Professional
Communications
See which communications master's degree is right for you
Alumni Highlight
Journalism Alumni Profile: Paul Rigney
Read More