Program Leadership
An Award-Winning Approach
Strategic communication is a profound tool used to inform, educate, and empower. Organizations from every industry and sector recognize the value and impact of employing a highly skilled and responsible communicator. We see this as a great opportunity.
As our industry advances, the program—its students, alumni, faculty, and professional community—remains a leader in educating the next generation of communicators. For the third straight year, we have been named the top public relations program in the nation by PRWeek.
Part of this success, I believe, is tied to our ability to embrace the blur between traditional public relations, journalism, and marketing. To this end, students in our Public Relations & Corporate Communications program are allowed—even encouraged—to take classes in our highly regarded Journalism program. This diversified learning environment reiterates best practices and mirrors industry trends.
Another innovative component of the program lies in our hallmark of applied curriculum. PRWeek judges note, "Georgetown clearly demonstrates that it is pushing its students to learn through experience and new digital tools. It's a refreshing approach to teaching." Courses require students to take part in hands-on projects, allowing them to sharpen their strategic, technical, and collaborative capabilities while building their professional networks.
The Georgetown experience is further differentiated through its deliberate focus on using the power of communications to make a positive difference in the world. Students are able to enrich their learning experience by taking advantage of the program's strong connection to the Center for Social Impact Communication—a thought leader in the exploration of responsible communication.
The MPS in Public Relations & Corporate Communications upholds the academic rigors and distinguished values of Georgetown while leveraging the experience and expertise of PR industry leaders in the classroom to shape the next generation of professionals. With close to 500 alumni in a variety of sectors, it is clear that we are advancing the profession by cultivating a thriving community of communication leaders.
I look forward to welcoming you to the Georgetown University community and guiding you through this critical phase in your professional endeavors.
Sincerely,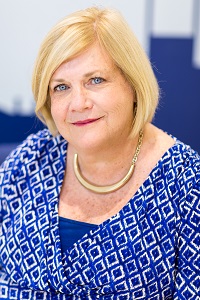 Denise Keyes
Senior Associate Dean
Division of Professional Communications
Georgetown University School of Continuing Studies
See which communications master's degree is right for you