Faculty
Faculty
Faculty members of the Public Relations & Corporate Communications program are experienced industry professionals and thought leaders from more than 30 different organizations.
98 percent are senior executives.
A number serve as presidents, principals, or CEOs.
Many are published authors or contribute regularly to industry trade journals, professional news magazines, and blogs about the communications profession.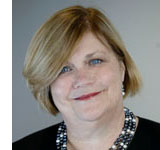 Meet the Dean
Denise Keyes
Senior Associate Dean
Division of Professional Communications
Executive Director, CSIC
Denise Keyes is the Senior Associate Dean of Georgetown University's Division of Professional Communications. She founded the Public Relations & Corporate Communications program in 2007 and has been responsible for its tremendous growth and continuing recognition within the industry. During her tenure at Georgetown, she also founded the Center for Social Impact Communication (CSIC), where she currently serves as the Executive Director. CSIC is the nation's only academic initiative of its kind, educating and inspiring communications professionals who lead the way in creating positive social impact through their work.
Ms. Keyes' own experiences in creating positive social impact through strategic communications span across sectors, including big corporate brands and government agencies, pioneering nonprofits, and large foundations. She has designed signature cause programs for Fortune 100 companies, developed award-winning social marketing campaigns, and crafted strategic corporate partnerships while holding senior management positions at industry-leading agencies Cone and Fleishman-Hillard.
She is a frequent speaker at global conferences on corporate social responsibility (CSR), branding, and cause marketing, and continues to serve as a consultant and trusted advisor for foundations and nonprofits looking to build innovative fundraising strategies and strengthen their communications with stakeholders.
"The MPS PRCC program has had an invaluable impact on my career path. The program had provided me with the resources, network, and education necessary to advance my career goals and obtain my next opportunity in corporate communications and I am so fortunate to have had this opportunity. Thank you."
See which communications master's degree is right for you