Degree Requirements
To earn an MPS degree, students must successfully complete 10 courses (30 credits total), including:
Two Core courses (6 credits total): Conversations in Ethics and the Capstone course.
Three Foundation course (9 credits total): Elements of Communications Planning, Public Relations Writing, and Communications Research
Five elective courses (15 credits total): Electives are grouped according to focus areas—Cause Communications, Corporate Communications, Digital Communications, Integrated Marketing Communications, and Public Relations—and students are empowered to choose courses from multiple areas.
Note: Effective Fall 2017, all students entering the program are required to complete the above curriculum.
Students must maintain a minimum, cumulative grade point average of 3.0 and receive a minimum grade of "B" in the Capstone course to graduate from the PRCC program.
What to Expect From Classes
The MPS in Public Relations & Corporate Communications uses an applied curriculum that emphasizes writing and hands-on learning. Students practice what they learn through real-world collaborations with experienced faculty, alumni, and partner clients such as Volvo, GE Healthcare, Amnesty International, Facebook, and BP.
What to Expect From Capstone
The Capstone experience—the final course in the program—provides students with the strategic skills and confidence needed to embrace the role of trusted advisor and consultant. Each student selects a client to work with and develops a comprehensive communications plan for that organization. This course not only provides unique networking and career opportunities, but also gives students valuable firsthand experience working with a client.
Sample part-time versus full-time schedule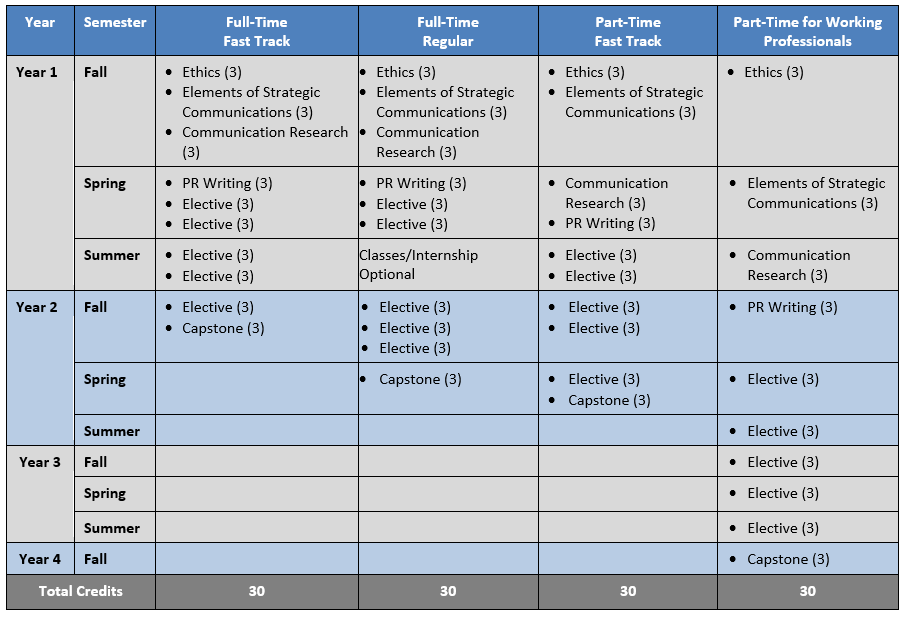 See the course list for the Master's in Public Relations & Corporate Communications >>
See which communications master's degree is right for you