Curriculum
Mission Statement
The Master of Professional Studies In Real Estate Program ("MPS/RE") degree creates a learning environment of "supported challenge," in which students master the advanced academic and professional skills needed to meet the challenges of today's real estate and related financial, construction, and environmental markets.
Learning Goals
Through the Foundational Real Estate courses, all MPS/RE students who complete the MPS/RE degree will achieve the following learning goals:
Beginning with the ETHICS IN ACTION course on the Savings & Loan Crisis and the Great Recession, the MPS/RE Program guides students in setting their moral compass to true north, with the goal of heightening their sensitivity to the moments of ethical decision in real estate development, finance, construction, and environmentalism. Because real estate substantially determines the broad well-being of the community and is literally a matter of life and death to individuals, Ethics pervades everything we do in the MPS/RE program: the most important lesson we can teach students is always to do the right thing.
Translating Ethics into the practical transactional and regulatory context of the real estate business, the FOUNDATIONS OF REAL ESTATE LAW course conveys the constitutional and historical sources of governmental authority over private real estate action, with the goal of providing students with a profound understanding of that power and limits of that authority. At the same time, the Law course depicts the great flexibility of legal devices available to facilitate virtually any kind of permissible real estate activity, with the goal of giving our students the background to be superior dealmakers.
In FOUNDATIONS OF REAL ESTATE FINANCE, students learn to analyze potential and actual real estate projects in a financially rigorous manner, with the goal for students to understand the need to reject the many impossible dreams and recognize the viable deals in the marketplace. The deeper goal is to sharpen the financial judgment of students so that they ultimately develop something like a sixth sense as to whether a real estate deal will pencil out, a skill that will gain them wide recognition as real estate professionals.
The FOUNDATIONS OF REAL ESTATE MARKETS course relates the economic needs of the community to the business opportunities available to real estate entrepreneurs, with the goal of giving students the ability to analyze a community's overall built environment in order to determine what is missing in that market, and the ability to determine what is feasible to fill that market need. While most in the real estate industry recognize the importance of market analysis, our goal here is for students to fully recognize the indispensability of creative market analysis to isolating the best and most original real estate opportunities, with students often working in teams so that many minds can make the most of these opportunities.
While the broad community and economic context of real estate practice is essential training for the real estate leaders MPS/RE seeks to produce, the FOUNDATIONS OF REAL ESTATE ACCOUNTING course has the goal of teaching students the financial accounting to confirm or invalidate the profitability of a real estate project. At the same time, the course teaches students the cost accounting needed to allocate revenue in a real estate organization at the enterprise level.
Following the Foundational courses, as students gain mastery and confidence in real estate, they select one or more concentrations in Real Estate Development, Real Estate Finance, Construction Management, or International Real Estate. The academic goal here is for students to assume a relatively high level of responsibility for choosing their own educational path. The professional goal here is to move students closer to their own career paths by exposing them to courses which resemble practice in the various real estate sectors to the greatest extent possible in an academic setting.
The MPS/RE program culminates with the CAPSTONE COURSE, the goals of which are for students to synthesize all relevant portions of the MPS/RE program, to hone their analytical writing skills to a fine edge in a Capstone Thesis, and to present that thesis in an oral and visual Capstone Presentation to the real estate and general public.
The ultimate goal of the Core, Foundation, Concentration, and Capstone courses together is to produce real estate professionals who make the greatest contribution to society, to the real estate profession, and to users of real estate, all while satisfying their personal goal of having a stimulating, contributing, and rewarding career.
Curriculum Format
Students begin with the core Ethics course (MPRE 500) in the first or second semester and four foundation courses that examine business practices in the areas of law, finance, marketing, and accounting. Students then work with academic advisors to select 12 credits (4 courses) that relate to their designated degree concentration. The final component of the program is the core Capstone course. The course of study is designed to be completed in two years; however, some students may take up to five years to finish, while others may finish slightly faster.
Required Core and Foundation Courses (18 Credits)
MPRE 500: Ethics in Action (Core course, 3 credits). The Savings and Loan Crisis. Explore the ethical dilemmas faced by people under pressure by learning directly from participants in the savings and loan crisis. Those who experienced its moral and personal challenges include journalists, savings and loan executives, real estate borrowers, government regulators, private investors, individual property owners, and others. This course should be completed in the first or second semester of study as it forms the ethical basis for all follow-up coursework in the program.
MPRE 601: Foundations of Real Estate Law (3 credits). This introductory course emphasizes the historical and constitutional origins of government power over real estate, as well as contemporary practical legal aspects of real estate development, transactions, and finance—with references to international real estate law.
MPRE 621: Foundations of Real Estate Finance (3 credits). You'll learn about the fundamentals of commercial leases, financial models, due diligence analysis, Real Estate Investment Trust (REITs) and liquid real estate, cycles and exit strategies, and much more.
MPRE 631: Foundations of Real Estate Markets (3 credits). This course covers real estate marketing issues in the broadest sense. Drawing initially upon classic economic geography and location theory and the work of contemporary urban economic geographers, the course then addresses real estate-related marketing at multiple levels. You'll learn to conduct market feasibility analyses for real estate development of all property types, as well as a variety of effective marketing strategies and tactics.
MPRE 641: Foundations of Real Estate Accounting (3 credits). Because of real estate's sheer complexity, keeping up with its costs and profits can be unusually challenging. For organizations owning and investing in numerous properties, the enterprise-level accounting challenge is all the greater. This course covers accounting theory and real estate practice, real estate internal cost accounting, accounting for construction and mortgage industries, and many other core topics. An additional weekend module will enable you to learn the basics of ARGUS real estate financial analysis software.
MPRE 950: Capstone Course (Core course, 3 credits). The culmination of a student's matriculation is a capstone course in which the student solves a contemporary challenge in real estate. That solution must be workable, backed with solid research, and stand up to critical scrutiny from engaged real estate professionals. A minimum grade of "B" (3.00) or higher is required of students in the MPRE Capstone to graduate regardless of their cumulative GPA.
Concentration courses form the remainder of each student's curriculum.
This is a curriculum for problem solvers. Just as importantly, the Master's in Real Estate program curriculum will help you gain knowledge well beyond that of someone new to the industry, or even a veteran who has concentrated in one area for some time. Your courses will take you on a wide-ranging journey across the spectrum of real estate related business areas, including:
Development
Understand the financial considerations, market demand, project feasibility, financing, and environmental considerations that drive decisions on whether and where to develop.
Construction Management
Learn to manage projects on time and on budget, keeping an eye on the major financial considerations involved with large-scale construction activity and subcontractor oversight. Gain insight into how to quantify and evaluate the impact of changes, as well as monitor quality and adherence to guidelines and standards.
Real Estate Finance
Perhaps the most critical aspect of successful development projects is learning how to obtain the financing needed to begin a project. From private equity to leveraged buy-outs, the U.S. real estate capital markets have never been so sophisticated. Explore complex issues like financing structures, liquidity, securitization, and financing as well as traditional bank lending.
International Real Estate
From Dubai to China to Russia and all points in between, both inbound and outbound real estate investment is rapidly internationalizing real estate practice. You'll build on Georgetown's expertise in international affairs to understand more about global markets, and then how to leverage that knowledge to design a progressive investment strategy.
Video Highlight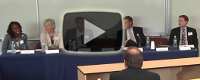 Georgetown University Annual Career Fair Round Table 2014
Watch Now