Welcome from the SIM Faculty Director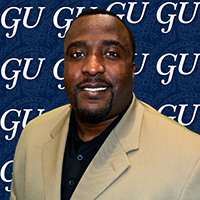 Since 2008, the Georgetown SIM program has had the privilege of providing students with a superior education to transition to our nation's premier sports organizations. Georgetown University as an institution is committed to providing a learning environment that is challenging, yet supportive of students' personal interests and needs. It is our goal to ensure not only that students succeed while they are here, but also that they are well prepared for their future endeavors beyond Georgetown University.
Our students are exposed to the latest industry best practices and most advanced work environments imaginable. This includes access to faculty from the NFLPA, Events DC, Octagon, and PeacePlayers International to name a few. Additionally, internships with sports organizations such as Monumental Sports (Wizards, Capitals, Mystics, and Valor), Washington Redskins, Washington Nationals, D.C. United, and the Georgetown University Athletic department are just a few of the major opportunities waiting for SIM students.
Your time spent with the SIM program will be some of the most personally demanding and challenging years of your life. They will also be the most productive, rewarding, and enlightening. It is my sincere hope that ultimately we will instill in each of you the unshakable conviction of cura personalis (Latin for care for the entire person) and the importance of your spiritual, emotional, and physical development. The process of making decisions from a moral center based on a stable ethical foundation is a significant responsibility filled with reward; one that will define your lives from here forward.
As a student in the SIM program, I believe that you will quickly realize that we are a dedicated, close-knit, and supportive family comprised of remarkably caring faculty and staff from around the world who are eager to share their own unique talents, interests, perspectives, and backgrounds. All are here to make a difference: to change what's possible. We are excited and honored to have you here, and we wish you tremendous success in your every endeavor.
Sincerely,
Daniel G. Kelly II, Ph.D.
Faculty Director
Sports Industry Management