Explore the Degree
Learn from Technology Management Leaders
Demand is high for experienced information technology professionals who can improve organizational performance. Georgetown University's technology management master's program is your opportunity to learn from top IT mentors in the field.
The Master of Professional Studies in Technology Management program takes students on a journey that prepares them to exhibit technical competence and showcase leadership that can transform organizations.
---
"Going to the Georgetown Technology Management program is the best decision I've made for my career."
Sola Adesida ('11)
---
Who Should Apply?
The Master of Professional Studies in Technology Management program at Georgetown University shows skilled professionals how to be the most effective technology leaders and senior executives in the industry, and how they can use their knowledge in the field to create new opportunities related to innovation and collaboration.
The program is designed for:
Skilled technology professionals who want to advance their careers and add more value to their organizations through improved leadership and business management skills;
Current business leaders who want to better maximize the bottom-line impacts of information technology tools and strategies;
Entrepreneurs who want to leverage emerging technological advances to create a new, customer-driven product or service; and
CIOs, IT managers and others who wish to embark on a career as information technology or business enterprise solution consultants.
Degree Requirements
The Master of Professional Studies in Technology Management program is designed to give you both a strong academic foundation and insights into the most complex technological and business management issues facing the industry today.
This is a 30-credit program (ten courses). Students begin with a required Core course in Ethics and three other required Foundation courses, and then advance into taking predefined concentration and/or elective courses. Students, with the help of their advisors, may choose their own electives or take electives from a predefined concentration. Program concentrations and electives are designed to enable students to more acutely define their expertise.
The program culminates in a Capstone course that stretches students to apply their accumulated knowledge to real-world corporate, non-profit or entrepreneurial challenges.
Students must earn a grade of "B" or better in both the Capstone and Ethics to successfully complete these courses. A minimum cumulative GPA of 3.00 ("B") is also required of all students for good standing and to be eligible for graduation. See Course Schedule for more detailed course descriptions and options.
Program Formats
On Campus: The on-campus Technology Management program is designed for students in the D.C. metro area who prefer learning in a classroom setting and on a consistent schedule. Classes are held on campus at the same times every week, giving students an opportunity for one-on-one interaction with faculty and peers in a classroom environment.
Online: The online Technology Management program is the same as the on-campus program, only formatted for students who prefer learning in a flexible online community and/or are not located in the D.C. metro area. In this online format, students can listen to lectures and complete assignments on their own schedules from anywhere in the world, with all faculty and peer interaction occurring in a virtual setting.
Program Concentrations
As a student in the Master of Professional Studies in Technology Management program at Georgetown University, pick a predefined program concentration or mix and match courses with guidance from our program advisors.
Our predefined program concentrations include:
See Program Concentrations for more details.
Program Length
The program typically takes students two years of part-time study to complete, although many students will complete the program in a faster or more gradual fashion. An accelerated schedule option is available, which allows students to complete the 30-credit MPS in Technology Management within one year (just three semesters). Many students take a combination of both part-time and accelerated-schedule classes, enabling them to complete their degrees in about 18 months.
Choose the pace that best meets your professional, educational and life goals.
"Students have the ability to take night classes, accelerated and online classes without restriction."
See Course List for a complete list of courses and more detailed course descriptions.
Sample part-time versus accelerated schedule: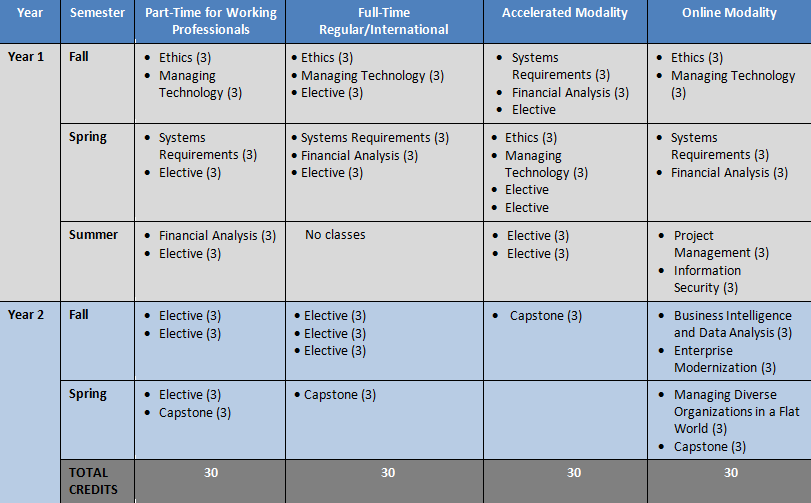 *Note: Courses and course names are subject to change.
Faculty Highlight
TM Faculty on Federal Tech Talk
Read More
Video Highlight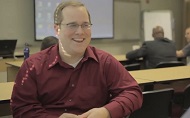 Day in the Life of an MPS Technology Management Student
Watch Now