Program Leadership
Welcome to Georgetown University's Master of Professional Studies in Urban and Regional Planning!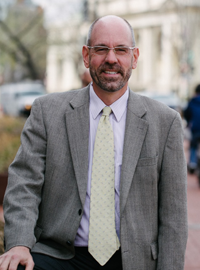 Our mission is to prepare aspiring leaders to become professional urban planners ready to solve the many unprecedented urban growth challenges around the world. We believe that urban planners are both professional executives and community leaders tackling interdisciplinary problems in neighborhoods, towns, cities, and metropolitan regions. Our program is designed to train visionary leaders able to shape more livable, sustainable, and meaningful cities—and to do so in an ethical and transparent manner. We believe that the profession of urban planning is integral to the business of developing cities.
Housed within the state-of-the-art "Georgetown Downtown" campus, we are situated within one of the most important cities in the world—Washington, D.C.—a vibrant urban marketplace with deep traditions of civic planning and dozens of research organizations engaged in forging sustainable communities locally and globally. Remarkably, we are immersed in one of the most concentrated and globally connected professional communities of urban planners in the world.
Our passion for urban development, stakeholder engagement, and urban design excellence has been informed by professional experiences across this city, in cities across the United States, and in cities around the world. We believe that when urban planners combine the right knowledge and expertise with inspired civic leadership, they can deliver outcomes for communities that very often defy conventional wisdom.
We look forward to working with you, answering your questions, and welcoming you into this extraordinary program.
Sincerely,
Uwe S. Brandes, M.Arch
Faculty Director
Urban & Regional Planning