Mission and Vision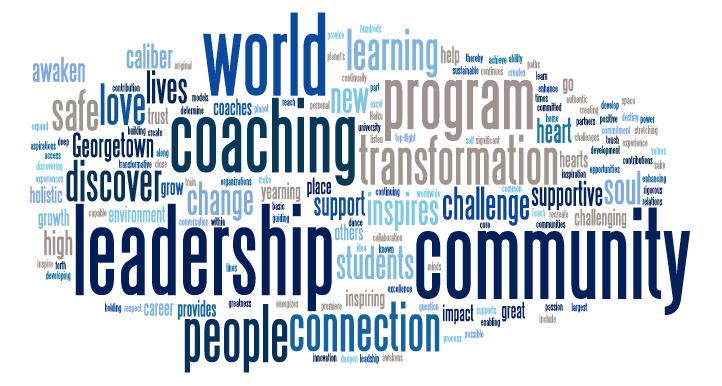 Mission Statement
Our mission is to develop and sustain worldwide communities of transformational leaders and leadership coaches dedicated to awakening, engaging and supporting the leadership required in the world today to create a more sustainable and compassionate future.

The Institute for Transformational Leadership is a generative hub of conversation, research, and education vital for addressing 21st century leadership challenges. Established in 2012, at a time of historic change, the Institute is dedicated to creating learning communities and networks where leaders and coaches engage in deep inquiry, reflection and exploration in service to building a better world. By convening conversations with culturally diverse stakeholders, conducting ongoing research, and sharing knowledge through innovative, experiential educational programs, the Institute advances the art and science of transformational leadership education, leadership coaching and the possibilities of leadership.
The Institute is rooted in the values of Georgetown University and those of the coaching profession. We are inspired by a spirit of generosity and sense of shared responsibility for the future. We invite the contributions and participation of people from government, business, and non-governmental organizations globally to ensure the common well being, the flourishing of the human community, and protection of the environment for future generations.
Alignment with Georgetown University
Georgetown University is founded upon core values that form the philosophical underpinnings of its Jesuit mission and educational approach. In spirit and in practice, no program better exemplifies the Jesuit mission and values than the Institute for Transformational Leadership. Its programs, events and research incorporate:
The principles taught by the Institute emphasize the universal and shared human experience, purposely teaching participants how to recognize their own biases and shift their mindsets from judgment to transformational leadership principles that embrace compassion, curiosity, openness and connection.
Alignment with the School of Continuing Studies
As part of the School of Continuing Studies, the Institute expands the educational outreach of Georgetown University, reaching professionals from many disciplines and geographies. Through the Institute's programs, participants learn not only through reading, writing and classroom instruction, but also through discourse, practicum experiences, self-reflection, self-observation and by practicing new behaviors and skills in daily life. In short, the Institute puts leadership theory into practice – in the classroom and in the world.
Alignment with the Emergent Field of Leadership Coaching
We believe the central intention of the profession of coaching is to improve others for the sake of a better world. In the Institute's programs for leaders and coaches, participants learn the four domains of being human (mind, body, emotion and spirit) and learn how to support growth in each dimension.
The Institute is guided by the philosophy, spirit and belief that each human being is whole, resourceful and creative. The process of becoming a better coach or leader requires a deep, honest look inside one's self to understand how one's own story, assessments and projections influence one's perceptual lens. With greater awareness, only then can leaders and coaches purely serve in the development of others.