Explore the Degree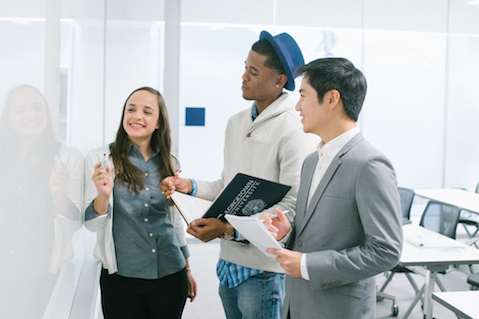 The Master of Professional Studies in Integrated Marketing Communications brings together strategy and creativity in an applied approach to IMC campaign planning. Understanding the consumer is key to the process and serves as the foundation of the program. Students learn about consumer research and how to develop insights, and ultimately create communications strategies based on the wants and needs of their target audience.
The concept of branding is explored in depth so students understand what it takes to build a brand, over time, using multiple media platforms. Bringing it all together, students apply these key concepts to create high-impact IMC campaigns, and a management process to facilitate integration. Successful IMC practitioners must embrace new opportunities to tell their story and build their brand, without the level of control traditionally associated with brand management.
In many of the program's classes, students work with clients on real-time IMC challenges. As a result, students are able to build their resumes through these experiences while continuing to work at their current jobs. With flexible options for full- or part-time evening classes, students can set their own pace for completing their degree knowing that they are building their experience and increasing their desirability to potential employers with each course.
Georgetown's approach to IMC is grounded in digital strategy as the key to fully integrated campaign planning. Students learn how to tell stories across multiple platforms and to create content with ease. The emphasis is on creativity, with an appreciation for the role of data and analytics. Students can choose from a wide range of electives to build their creative muscle, and to learn practical approaches to analytics and evaluation.
The IMC curriculum focuses on the inherent challenges of working across communications disciplines, including sales promotion, advertising, direct mail, digital marketing, and brand publicity, as well as the emerging challenges of digital media. Additionally, the curriculum explores the ethics of consumer research and privacy, the boundaries involved in the art of persuasion, and the challenges of paid versus earned media within the context of IMC.
The program culminates in a capstone project, where students demonstrate what they have learned by creating an IMC campaign for a client of their own choosing. Students have a broad range of options for their capstones. For example, the concept of IMC can be applied to a consumer brand for a large or small business, for a social issue or cause on behalf of a nonprofit or an NGO, or on behalf of a public education campaign for a government agency or a foundation.
On Campus: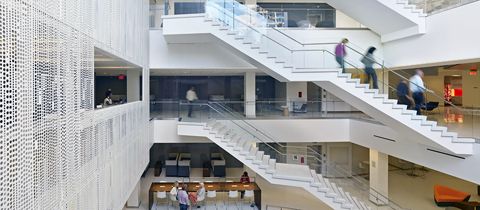 The on-campus format for the master's in Integrated Marketing Communications program is designed for students in the D.C. metro area who prefer learning in a classroom setting and on a consistent schedule. Classes are held on campus at the same times every week, giving students an opportunity for face-to-face interaction with faculty and peers in a classroom environment.
Online: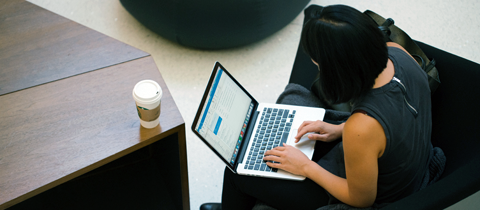 The online format for the master's in Integrated Marketing Communications program is the same as the on-campus format, only designed for students who prefer learning in a flexible online community and/or are not located in the D.C. metro area. In this online format, students can watch lectures and complete assignments on their own schedules from select states across the country, with all faculty and peer interaction occurring in a virtual setting.
Students in the online format have access to all programming that is offered to on-campus students including opportunities to participate in academic advising, networking, professional development workshops, strategic career management webinars, and more.
Roll-out Schedule for Online Courses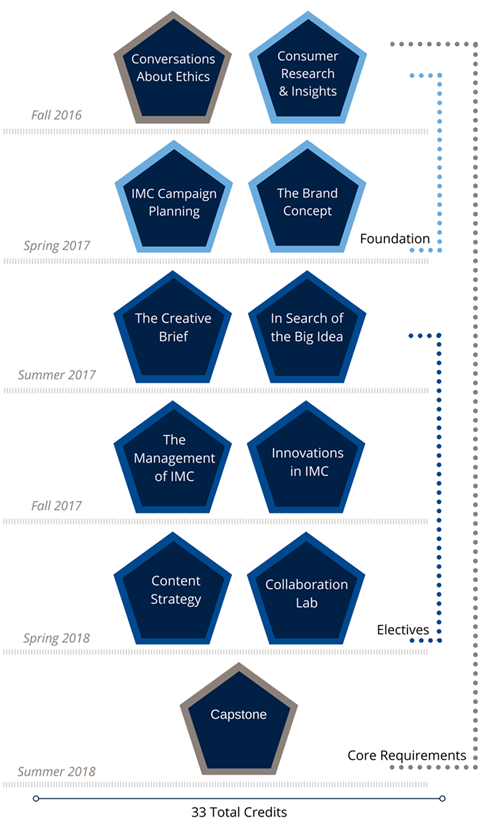 See which communications master's degree is right for you