Contributing Value to Maximize Organizational Success
Note:
We are not currently accepting applications for the Executive Master of Professional Studies in Program & Portfolio Management. If you're interested in applying for Fall 2017, we are still accepting applications for our
Master of Professional Studies in Project Management
.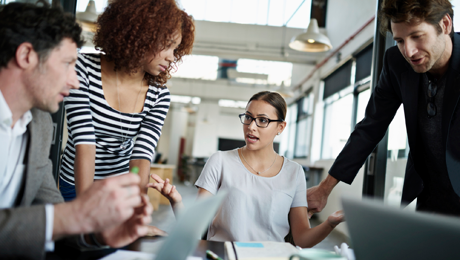 ---
As organizations are growing in size and complexity, there is an increasing demand for improved control over groups of projects and programs to ensure they align with organizational goals and deliver maximum value. To fulfill this need, today's employers are seeking professionals who possess the strategic planning, business acumen, and leadership skills required to seamlessly manage these efforts.
Georgetown University's Executive Master of Professional Studies (EMPS) in Program & Portfolio Management (PPM) provides professionals with the technical knowledge and practical skills needed to effectively monitor and manage an organization's interrelated portfolios, programs, and projects. The program is designed for mid- to senior-level practitioners who currently hold or aspire to enter into executive roles in program management and strategic portfolio leadership.
Graduates of the program will be prepared to successfully maximize resources, minimize risks, and support their organization's strategic objectives, and, ultimately, bottom line.
Priming the Next Generation of Strategic Leaders
Core Competencies. Participants develop the competencies needed to approach program and portfolio management from a strategic mindset, incorporating research-based insights to align with business objectives and achieve results.
Hybrid Format. The program offers a hybrid curriculum that blends online coursework with two 5-day residencies, enabling students to earn their degree without interrupting their career.
Strategic Approach. Participants develop the analytical frameworks, strategic business acumen, and advanced managerial insights needed to become more effective leaders.
Industry Insights. Students engage with a faculty of experienced practitioners, who bring industry expertise and real-world experience directly into the classroom.
Take a closer look at the executive master's in Program & Portfolio Management >>
See which project management program is right for you