On-Campus & Online Formats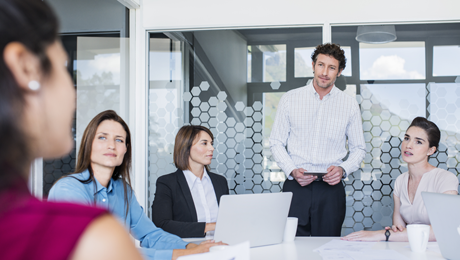 ---
Increasing Efficiencies to Impact Results
In today's rapidly changing business landscape, there is a growing need for professionals who possess the technical knowledge and leadership skills that are required to effectively plan, manage, and execute complex projects.
Georgetown University's Master of Professional Studies (MPS) in Project Management (PM) primes students to manage and lead businesses through some of today's greatest challenges. Students not only gain a deeper understanding across the project management lifecycle, but also master the competencies needed to think critically, balance competing demands, and communicate with diverse stakeholders—all while producing deliverables that align with organizational objectives.
Who Should Apply
The master's in Project Management is designed for those who are looking to enter or advance in project management. Ideally, applicants will have some prior relevant education or work experience as well as a desire to learn more about coordinating and leading projects, structuring workflow, and managing the complexities and uncertainties of the work environment.
A Solid Foundation for a Successful Future
Applied Learning. The program integrates hands-on learning to ensure that students can successfully apply the project management tools and techniques learned in the classroom to real-world scenarios.
Flexible Format. The program offers a flexible curriculum that enables students to take classes online, on campus, or through a combination of both; students also have the options to enroll in the program on either a part-time or full-time basis.
Transferrable Skills. Students develop the analytical frameworks, strategic planning skills, and advanced managerial insight needed to become more effective leaders and contributors across a broad range of industries.
Industry Insights. Students engage with a faculty of experienced practitioners, who bring industry expertise and real-world experience directly into the classroom.
See which project management program is right for you