Early Intervention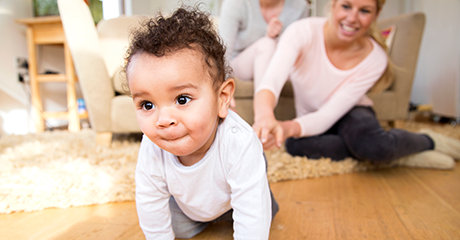 ---
Ideal for
Professionals with early intervention or early childhood service responsibilities including practitioners, policy makers, health care officials, and advocates for families and young children.
Program Format
This hybrid program combines online conferences with short campus-based "intensives." Students are required to be on campus two days at the start of the cohort for orientation, one day mid-year, one day in winter for a leadership workshop, and one day at the end of the cohort to present the capstone project.
Program Length
Eight courses – including a capstone project

—

completed over a 10-month period.
Program Cost
Total program tuition including all eight courses is $6,000.00. Most course materials are included.

Learn more about funding or financing your certificate >>
Start Date

Now accepting applications for

Fall 2017

. Application deadline is

August 1

. Classes begin in September.
Program Overview
The Certificate in Early Intervention is an eight-course hybrid program of distance education in combination with short intensive on-campus instruction. The program provides advanced training in comprehensive, evidence-based early intervention practices to early intervention/early childhood professionals.
Taught by subject matter experts from the Georgetown University Center for Child and Human Development*, the Certificate in Early Intervention focuses on promoting the values, skills, and attitudes needed to develop a system of support and services for infants, toddlers, and young children with disabilities and/or delays in development. The Certificate in Early Intervention promotes a system of care approach to the delivery of services to young children and their families. A comprehensive set of learning activities addressing the principles of evidence-based, culturally competent, and family-centered early childhood intervention practices is the basis for the certificate program.
Program Objectives
Upon successful completion of the program, participants will be able to:
Assess and promote social, emotional, developmental, and behavioral health of infants, toddlers, and young children in partnership with families in the context of their communities
Identify developmental, behavioral, and emotional problems and disorders early
Intervene effectively using evidence-based knowledge and practices
Develop and manage effective systems of supports and services
*The Georgetown University Center for Child and Human Development is a designated University Center for Excellence in Developmental Disabilities (UCEDD).
Certificate Requirements
To receive the Certificate in Early Intervention from Georgetown University, participants must successfully complete eight required courses for a total of 18.00 Continuing Education Units (CEUs), which is equivalent to 180.0 contact hours. All eight courses must be completed within the 10-month time frame.
| | Course Name | Course Type | CEUs |
| --- | --- | --- | --- |
| 1 | Foundations of Early Intervention | Required | 2.00 |
| 2 | Providing Services to Young Children | Required | 3.00 |
| 3 | Gathering Information to Determine Eligibility | Required | 3.00 |
| 4 | Special Topics in Early Intervention | Required | 1.00 |
| 5 | Evidence-Based Practices | Required | 3.00 |
| 6 | Administration & Leadership in Early Intervention | Required | 3.00 |
| 7 | Practice Applications in Early Intervention | Required | 1.00 |
| 8 | Capstone Course in Early Intervention | Required | 2.00 |
| Total | 8 Required Courses | | 18.00 |
See below for course schedules and application information.
Program Prerequisites
An entry-level degree in an early intervention/early childhood discipline such as physical therapy, occupational therapy, special education, social work, etc. or related field such as early childhood education.
A bachelor's or master's degree in a related field of study such as psychology, sociology, human development, healthcare, etc.
At least one year of professional experience in serving vulnerable children and families.
International Students
Georgetown University cannot sponsor student visas for non-credit professional certificate programs, however, international students who enter the U.S. on a valid visa are eligible to enroll in courses. For more information, please see our Frequently Asked Questions. A TOEFL examination for non-native speakers of English is not required but students are expected to read, write and comprehend English at the graduate level to fully participate in and gain from the program.
Application Process
As this is a cohort program, each applicant will be evaluated as an individual and as part of a well-balanced group of students. Applications and supporting materials must be submitted online through the MySCS Portal. Applicants are responsible for uploading all required application materials by the posted deadline for their desired semester of entry. Students will be notified of their admission decision via e-mail within 2-4 weeks after the application deadline.

Required:
Administration and Leadership in Early Intervention
Capstone Course in Early Intervention
Evidence-Based Practices
Foundations of Early Intervention
Gathering Information to Determine Eligibility and to Program Plan
Practice Applications in Early Intervention
Providing Services to Young Children
Special Topics in Early Intervention
---
Course Schedule
Course Name
Semester and Section
Required
Fall 2017
Spring 2018
Foundations of Early Intervention

Not currently scheduled

Section 01

Fri/Sat, 8:30 AM - 5:00 PM
Sep 08, 2017 to Sep 09, 2017
640 Mass Ave.

Status:

Late Enrollment

Not currently scheduled

Required
Fall 2017
Spring 2018
Providing Services to Young Children

Not currently scheduled

Section 01

Online

Sep 12, 2017 to Dec 05, 2017

Status:

Open

Not currently scheduled

Required
Fall 2017
Spring 2018
Capstone Course in Early Intervention

Not currently scheduled

Section 01

Online

Sep 12, 2017 to Jun 15, 2018

Status:

Open

Not currently scheduled

Section 01

Online

Sep 12, 2018 to Dec 12, 2018

Status:

Canceled

Section 02

Online

Jan 03, 2019 to Jun 15, 2019

Status:

Canceled

Required
Fall 2017
Spring 2018
Gathering Information to Determine Eligibility and to Program Plan

Not currently scheduled

Section 01

Online

Sep 19, 2017 to Dec 12, 2017

Status:

Open

Not currently scheduled

Required
Fall 2017
Spring 2018
Special Topics in Early Intervention

Not currently scheduled

Section 01

Wed, 8:30 AM - 5:00 PM
Jan 03, 2018
640 Mass Ave.

Status:

Open

Not currently scheduled

Section 01

Wed, 8:30 AM - 5:00 PM
Jan 03, 2018
640 Mass Ave.

Status:

Canceled

Required
Fall 2017
Spring 2018
Evidence-Based Practices

Not currently scheduled

Section 01

Online

Jan 03, 2018 to Apr 10, 2018

Status:

Open

Not currently scheduled

Section 01

Online

Jan 03, 2018 to Apr 10, 2018

Status:

Canceled

Required
Fall 2017
Spring 2018
Administration and Leadership in Early Intervention

Not currently scheduled

Section 01

Online

Mar 01, 2018 to May 11, 2018

Sat, 8:30 AM - 5:00 PM
Mar 03, 2018
640 Mass Ave.

Status:

Open

Not currently scheduled

Section 01

Online

Mar 01, 2018 to May 11, 2018

Sat, 8:30 AM - 5:00 PM
Mar 03, 2018
640 Mass Ave.

Status:

Canceled

Required
Fall 2017
Spring 2018
Practice Applications in Early Intervention

Not currently scheduled

Section 01

Fri, 8:30 AM - 5:00 PM
Jun 15, 2018
640 Mass Ave.

Status:

Open

Not currently scheduled

Section 01

Fri, 8:30 AM - 5:00 PM
Jun 15, 2018
640 Mass Ave.

Status:

Canceled