Health and Wellness Coaching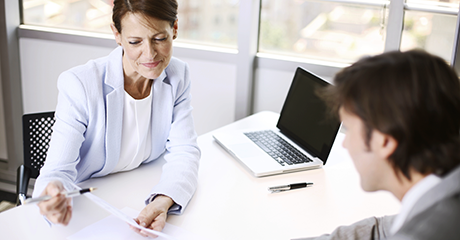 ---
Ideal for
Individuals seeking to join the health and wellness fields as a health coach and current health professionals interested in learning about the health coaching role and/or expanding their own skill set and advancing within health, wellness, or preventive care.
Program Format
This cohort-based program combines traditional classroom learning with interactive experiential methodology. Classes typically meet for three consecutive days – Wednesday through Friday

—

at our downtown Washington, D.C. campus.
Program Length
Six courses completed in sequence over six months.
Program Cost
Total program tuition including all six courses is $6,995.00, not including textbooks.

Learn more about funding or financing your certificate >>
Start Date
Summer 2018 (April)

- Application will be available September 2017.
Program Overview
The Georgetown University Certificate in Health and Wellness Coaching offers students a unique opportunity to develop or enhance health and wellness coaching skills aimed at helping others to make transformative and lasting behavioral change. In addition to acquiring the skill set needed to practice health and wellness coaching, students experience personal transformation and shifts in mindset as they begin to apply skills acquired in the program in their own lives and with those around them. The program features an integrative and holistic approach to health and wellness coaching based on Georgetown's core value of cura personalis, or Care of the Whole Person, which calls on health and wellness practitioners to address the needs of the whole person - mind, body, and spirit. Through a cohort based structure combining classroom learning with interactive experiential methodology, students will learn and practice skills in mindfulness, motivational interviewing, and facilitating behavior change – including assessing readiness to change, helping clarify health and wellness goals, and providing support through the change process. Instrumental to the skill building process is peer-to-peer coaching and a supervised health coaching practicum where students will work directly with clients demonstrating the use of learned health and wellness coaching techniques.
The Certificate in Health Coaching program is ideal for current health professionals looking to enhance their coaching skills and patient relationships, and individuals with a desire to develop as a health coach within their own practice or another clinical or wellness setting. This certificate program can also prepare graduates who wish to become certified through the International Consortium for Health and Wellness Coaches (ICHWC).
Program Objectives
Upon successful completion of the program, participants will be able to:
Demonstrate skills in mindfulness, motivational interviewing, and facilitating behavior change
Conduct one-on-one and group coaching sessions toward positive and healthy behavior change
Develop an individualized health coaching approach
Understand the business elements of a health coaching practice
Industry Accreditation
The International Consortium for Health & Wellness Coaching (ICHWC) has qualified the Georgetown University Health Coaching program as an Approved Transition Program per the ICHWC's professional standards.
Certificate Requirements
To receive the Certificate in Health and Wellness Coaching from Georgetown University, students must successfully complete six (6) required courses for a total of 9.75 Continuing Education Units (CEUs), which is equivalent to 97.5 contact hours. The program must be completed in sequence as a cohort over the six-month duration of the program.
| | Course Name | Course Type | CEUs |
| --- | --- | --- | --- |
| 1 | Psychology of Behavior Change | Required | 2.25 |
| 2 | Health Coaching Fundamentals | Required | 1.50 |
| 3 | Health Coaching Skills I | Required | 2.25 |
| 4 | Health Coaching Skills II | Required | 1.50 |
| 5 | Your Health & Wellness Coaching Practice | Required | 2.25 |
| 6 | Health Coaching Practicum | Required | 0.00 |
| Total | 6 Required Courses | | 9.75 |
See below for course schedules and application information.
Program Prerequisites
In order to ensure that there is a baseline of knowledge and experience of students in the cohort, applicants must meet at least two of following pre-requisites:
A bachelor's degree from an accredited institution
Completion of a degree or licensure in a related field (i.e. nursing, social work, psychology, counseling, nutrition, personal training/fitness)
Completion of a related educational program and/or training program (i.e. patient navigation, leadership coaching)
A minimum of one year of employment in a related field (i.e. home health care, social work, social services support, fitness, nutrition, allied health). On a case-by-case basis, volunteer experience in a related field will also be considered as an alternative to the employment pre-requisite.
Applicants must also be open to feedback, capable of self-examination, and willing to challenge their own beliefs.
International Students
Georgetown University cannot sponsor student visas for non-credit professional certificate programs, however, international students who enter the U.S. on a valid visa are eligible to enroll in courses. For more information, please see our Frequently Asked Questions. A TOEFL examination for non-native speakers of English is not required but students are expected to read, write and comprehend English at the graduate level to fully participate in and gain from the program.
Application Process
The Health and Wellness Coaching certificate program has a selective admissions process. For each cohort, an application review committee offers admission to a select and diverse group of students to enrich the classroom experience.
Applications and supporting materials must be submitted online through the MySCS Portal. Applicants are responsible for uploading all required application materials by the posted deadline for their desired semester of entry. Students will be notified of their admission decision via e-mail within 2-4 weeks after the application deadline.
Before applying, applicants should download Application Checklist. Applicants are also encouraged to review cohort schedules before applying to confirm that they are able to commit to all scheduled course dates required to successfully complete the program.
Required:
Health Coaching Fundamentals
Health Coaching Practicum
Health Coaching Skills I
Health Coaching Skills II
Psychology of Behavior Change
Your Health & Wellness Coaching Practice
---
Course Schedule