Executive Certificate in Leadership Coaching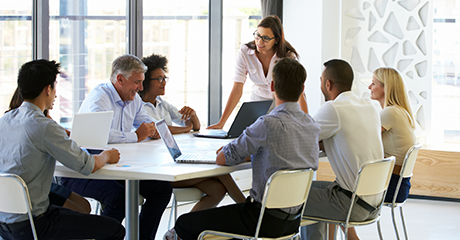 ---
Ideal for
Experienced performance management professionals and accomplished organizational leaders seeking a career transition or to expand their portfolio of skills. Coaches and consultants seeking certification from the International Coach Federation or those who would like to build their organizational leadership development skills can also benefit from this program.
Program Format
This cohort program typically meets for three consecutive days—Wednesday through Friday—once per month at our downtown Washington, D.C. campus. There are additional meetings with learning team coaches, and individual coaching by an assigned faculty member, which are arranged to fit the schedules of participants. Participants also complete supervised coaching of three clients for a period of three months each.
Program Length
Eight required courses, as well as extensive experiential training and self-reflection, are completed over a period of eight months.
Program Cost
Total program tuition including all eight courses is $11,995.00. Textbooks are not included in tuition.

Learn more about funding or financing your certificate >>
Start Date
Now accepting applications for Spring 2018. Application deadline is August 1. Classes begin in January.
Program Overview
Taught by academics and experienced practitioners, the highly competitive and ICF-accredited Executive Certificate in Leadership Coaching program examines the links between coaching and organization development, while emphasizing coaching skill development on three levels:
Learning about self as a coach and instrument of change;
Creating productive and fulfilling relationships in the coaching role and;
Understanding coaching within systems dynamics.
Founded in 2000 as the first university-based leadership coaching program, the certificate program prepares participants for the Professional Certified Coach level of proficiency as established by the International Coach Federation (ICF). Upon completion of the Certificate in Leadership Coaching program, many students go on to seek credentialing via the ICF, which is separate from the Georgetown certificate program.
Program Objectives
The Executive Certificate in Leadership Coaching is designed to help students:
Learn how personal transformation occurs, through your own experience of transformation
Increase your ability to reflect, notice, and self-correct
Gain fluency in the domains of language, body, and emotion
Understand leadership coaching as organizational intervention
Define and practice elements of the coaching relationship
Assemble a coaching toolkit
Apply the concepts of adult development theory to your coaching and use of self as coach
Understand and practice team and group coaching
Certificate Requirements
To receive the Executive Certificate in Leadership Coaching from Georgetown University, students must successfully complete eight (8) required courses for a total of 14.25 Continuing Education Units (CEUs), which is equivalent to 142.5 contact hours. The program must be completed in sequence as a cohort over the eight-month duration of the program.
| | Course Name | Course Type | CEUs |
| --- | --- | --- | --- |
| 1 | Leadership Coaching as an Org Intervention | Required | 1.85 |
| 2 | Coaching to Create Breakthroughs | Required | 1.85 |
| 3 | Flow of Coaching | Required | 2.60 |
| 4 | Coaching to Stage Development | Required | 1.85 |
| 5 | Coaching Teams and Groups | Required | 1.85 |
| 6 | Coaching Integration Seminar | Required | 1.85 |
| 7 | Coaching Practicum | Required | 2.40 |
| 8 | Final Assessments | Required | N/A |
| Total | 8 Required Courses | | 14.25 |
See below for course schedules and registration information.
Program Prerequisites
Applicants must have the following prerequisites to ensure the appropriate knowledge, experience, and mindset to succeed in the program:
A bachelor's degree.
At least five years of education, training and/or professional experience in coaching, human resources, leadership, organization development, or a related field.
Openness to feedback; capacity for self-examination; willingness to challenge one's own beliefs.
International Students
Georgetown University cannot sponsor student visas for non-credit professional certificate programs, however, international students who enter the U.S. on a valid visa are eligible to enroll in courses. For more information, please see our Frequently Asked Questions. A TOEFL examination for non-native speakers of English is not required but students are expected to read, write and comprehend English at the graduate level to fully participate in and gain from the program.
Admissions Process & Philosophy
The applications review committee is tasked with choosing applicants that can create a learning community that includes students who bring diversity, a desire to learn, and the time and commitment at this point in their lives for their own transformational learning. The interaction and contribution of our students is an important part of the learning in the cohort. With that in mind, we carefully choose qualified applicants who share our focus on coaching leaders and being attuned to the systems within which they lead.
The Leadership Coaching certificate program has a highly competitive and selective admissions process. In reviewing applications, the committee takes a holistic approach and considers each applicant's academic coursework and degrees earned, coaching experience, leadership roles and work experience, community engagement, and other influencing factors.
Applications and supporting materials must be submitted online through the MySCS Portal. Applicants are responsible for uploading all required application materials by the posted deadline for their desired semester of entry. Students will be notified of their admission decision via e-mail within 6-8 weeks after the application deadline.
Before applying, applicants should download Application Checklist. Applicants are encouraged to review cohort schedules before applying to confirm that they are able to commit to all scheduled course dates required to successfully complete the program.
---
| | |
| --- | --- |
| | The Georgetown University Certificate in Leadership Coaching program is certified as an Accredited Coach Training Program (ACTP) by the International Coach Federation. |
---
Required:
Coaching Integration Seminar: Leveraging Your Learning and Moving Forward
Coaching Practicum
Coaching Teams and Groups
Coaching to Create Breakthroughs: Defining and Practicing Elements of the Coaching Relationship
Coaching to Stage Development and Leadership Presence
Final Assessments
Flow of Coaching
Leadership Coaching as an Organization Intervention
---
Course Schedule
Course Name
Semester and Section
Required
Fall 2017
Spring 2018
Final Assessments

Not currently scheduled

Section 01

Wed,
Sep 13, 2017 to May 11, 2018

Status:

Open

Not currently scheduled

Section 01

Wed,
Jan 24, 2018 to Aug 24, 2018

Status:

Open

Required
Fall 2017
Spring 2018
Coaching Practicum

Not currently scheduled

Not currently scheduled

Section 01

Wed,
Jan 24, 2018 to Aug 24, 2018

Status:

Open

Required
Fall 2017
Spring 2018
Leadership Coaching as an Organization Intervention

Not currently scheduled

Section 01

Wed, 8:30 AM - 5:00 PM
Sep 13, 2017
640 Mass Ave.

Thu, 8:30 AM - 5:00 PM
Sep 14, 2017
640 Mass Ave.

Fri, 8:30 AM - 4:30 PM
Sep 15, 2017
640 Mass Ave.

Status:

Open

Not currently scheduled

Section 01

Wed, 8:30 AM - 5:00 PM
Jan 24, 2018
640 Mass Ave.

Thu, 8:30 AM - 5:00 PM
Jan 25, 2018
640 Mass Ave.

Fri, 8:30 AM - 5:00 PM
Jan 26, 2018
640 Mass Ave.

Status:

Open

Required
Fall 2017
Spring 2018
Coaching to Create Breakthroughs: Defining and Practicing Elements of the Coaching Relationship

Not currently scheduled

Section 01

Wed, 8:30 AM - 5:00 PM
Oct 11, 2017
640 Mass Ave.

Thu, 8:30 AM - 5:00 PM
Oct 12, 2017
640 Mass Ave.

Fri, 8:30 AM - 4:30 PM
Oct 13, 2017
640 Mass Ave.

Status:

Open

Not currently scheduled

Section 01

Wed, 8:30 AM - 5:00 PM
Feb 21, 2018
640 Mass Ave.

Thu, 8:30 AM - 5:00 PM
Feb 22, 2018
640 Mass Ave.

Fri, 8:30 AM - 5:00 PM
Feb 23, 2018
640 Mass Ave.

Status:

Open

Required
Fall 2017
Spring 2018
Flow of Coaching

Not currently scheduled

Section 01

Tue/Wed/Thu, 8:30 AM - 5:00 PM
Nov 14, 2017 to Nov 16, 2017
640 Mass Ave.

Fri, 8:30 AM - 4:30 PM
Nov 17, 2017
640 Mass Ave.

Status:

Open

Not currently scheduled

Section 01

Tue/Wed/Thu/Fri, 8:30 AM - 5:00 PM
Mar 20, 2018 to Mar 23, 2018
640 Mass Ave.

Status:

Open

Required
Fall 2017
Spring 2018
Coaching to Stage Development and Leadership Presence

Not currently scheduled

Section 01

Wed, 8:30 AM - 5:00 PM
Jan 03, 2018
640 Mass Ave.

Thu, 8:30 AM - 5:00 PM
Jan 04, 2018
640 Mass Ave.

Fri, 8:30 AM - 4:30 PM
Jan 05, 2018
640 Mass Ave.

Status:

Open

Not currently scheduled

Section 01

Wed, 8:30 AM - 5:00 PM
Apr 25, 2018
640 Mass Ave.

Thu, 8:30 AM - 5:00 PM
Apr 26, 2018
640 Mass Ave.

Fri, 8:30 AM - 5:00 PM
Apr 27, 2018
640 Mass Ave.

Status:

Open

Required
Fall 2017
Spring 2018
Coaching Teams and Groups

Not currently scheduled

Section 01

Wed, 8:30 AM - 5:00 PM
Feb 07, 2018
640 Mass Ave.

Thu, 8:30 AM - 5:00 PM
Feb 08, 2018
640 Mass Ave.

Fri, 8:30 AM - 4:30 PM
Feb 09, 2018
640 Mass Ave.

Status:

Open

Not currently scheduled

Section 01

Wed, 8:30 AM - 5:00 PM
May 23, 2018
640 Mass Ave.

Thu, 8:30 AM - 5:00 PM
May 24, 2018
640 Mass Ave.

Fri, 8:30 AM - 5:00 PM
May 25, 2018
640 Mass Ave.

Status:

Open

Required
Fall 2017
Spring 2018
Coaching Integration Seminar: Leveraging Your Learning and Moving Forward

Not currently scheduled

Section 01

Wed, 8:30 AM - 5:00 PM
Mar 14, 2018
640 Mass Ave.

Thu, 8:30 AM - 5:30 PM
Mar 15, 2018
640 Mass Ave.

Fri, 8:30 AM - 4:30 PM
Mar 16, 2018
640 Mass Ave.

Status:

Open

Not currently scheduled

Section 01

Wed, 8:30 AM - 5:00 PM
Jun 27, 2018
640 Mass Ave.

Thu, 8:30 AM - 5:00 PM
Jun 28, 2018
640 Mass Ave.

Fri, 8:30 AM - 5:00 PM
Jun 29, 2018
640 Mass Ave.

Status:

Open