Social Media Management: On Campus & Online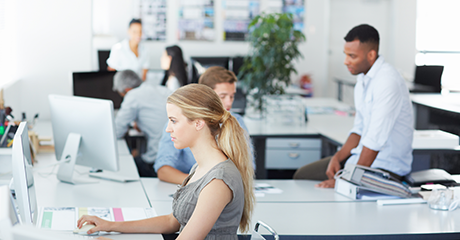 ---
Ideal for
Professionals in marketing, public affairs, strategic communications, visual communications/media design and others who seek to implement social media more effectively for their respective organization.
Program Format
On-Campus Intensive: Courses meet on-campus 9:00 a.m. to 5:00 p.m. for the duration of one week (Mon.-Fri.) followed by one week of online course work.

Online: All courses are asynchronous so that students do not need to meet online at a specific time each week.
Program Length
Intensive: During Intensive Program students complete the seven required courses in two weeks.

Online: Seven required courses over one semester. Students are not required to enroll continuously and have up to two years to complete the program.
Program Cost
Tuition is $395.00 to $695.00 per course. Total program tuition including all seven courses is $4,165.00. Most course materials are included.

Members of the American Marketing Association are eligible for a 10% tuition discount on each course. Learn more about funding or financing your certificate >>
Start Date
Social Media Management courses are open enrollment and offered throughout the year. Students are encouraged to complete the courses in sequence. Please see course schedule below for the next start date.
Program Overview
The Certificate in Social Media Management enables professionals tasked with branding, public affairs, marketing communications (internal or external), or community engagement to plan, execute, and assess a comprehensive and effective social media campaign for corporations, government agencies, or non-profit organizations. Through a combination of case study analysis, lecture, project work, and simulations, participants develop expertise in social media planning, campaign management, and analysis to craft an authentic and effective "voice" for their organizations and communities.
Program Objectives
Upon successful completion of the program, participants will:
Master social media communication principles and platforms
Apply strategies and tactics to real projects
Implement an effective and comprehensive social media campaign
Develop a professional portfolio to demonstrate newly acquired expertise
Certificate Requirements
To receive the Certificate in Social Media Management from Georgetown University, students must successfully complete seven (7) required courses for a total of 4.80 Continuing Education Units (CEUs), which is equivalent to 48.0 contact hours. All seven courses must be completed within a two-year period.
| | Course Name | Course Type | CEUs |
| --- | --- | --- | --- |
| 1 | Using Social Media Tools Effectively | Required | 0.40 |
| 2 | Writing for Social Media | Required | 0.80 |
| 3 | Social Media Strategies & Tactics | Required | 0.70 |
| 4 | Measuring & Calculating ROI | Required | 0.70 |
| 5 | Strategic Communication Planning | Required | 0.70 |
| 6 | Policies & Procedures to Manage Risk | Required | 0.70 |
| 7 | Capstone Course in Social Media | Required | 0.80 |
| Total | 7 Required | | 4.80 |

See below for course schedules and registration information.
Program Prerequisites
A bachelor's degree or the equivalent.
A minimum of 1 to 3 years of professional work experience in a communications, marketing, public relations, or media role.
Social Media Prerequisites
Program participants are expected to have working knowledge of common social media platforms such as Facebook, Twitter, LinkedIn, Google, YouTube, Tumblr, Instagram, and Pinterest. Prior to enrolling, students should have active accounts on these platforms, be able to use basic features and perform common tasks, and understand applicable terminology (e.g hashtags, likes, pins. etc.). Those with limited experience are strongly encouraged to open accounts to begin gaining experience with each platform. A recommended resource for beginners is Platform: Get Noticed in a Noisy World, which is available in hardcover, e-book, and audible formats.
International Students
Georgetown University cannot sponsor student visas for non-credit professional certificate programs, however, international students who enter the U.S. on a valid visa are eligible to enroll in courses. For more information, please see our Frequently Asked Questions. A TOEFL examination for non-native speakers of English is not required but students are expected to read, write and comprehend English at the graduate level to fully participate in and gain from the program.
How to Enroll
This certificate is an open enrollment program. No application is required and registration is available by clicking the course links below. Course registration is complete when payment is processed and you receive a confirmation email.
Required:
Capstone Course in Social Media
Measuring & Calculating Return on Investment for Social Media
Policies and Procedures to Manage Risk
Social Media Strategies & Tactics
Strategic Communication Planning
Using Social Media Tools Effectively
Writing for Social Media
---
Course Schedule
Course Name
Semester and Section
Required
Summer 2017
Fall 2017
Using Social Media Tools Effectively

Enrollment closed

Section 101

Online

Jul 10, 2017 to Jul 16, 2017

Status:

Open

Not currently scheduled

Section 01

Mon, 9:00 AM - 1:00 PM
Oct 23, 2017
640 Mass Ave.

Status:

Open

Section 101

Online

Sep 11, 2017 to Sep 25, 2017

Status:

Open

Required
Summer 2017
Fall 2017
Writing for Social Media

Enrollment closed

Section 101

Online

Jul 17, 2017 to Jul 23, 2017

Status:

Open

Not currently scheduled

Section 01

Mon, 1:30 PM - 5:00 PM
Oct 23, 2017
640 Mass Ave.

Status:

Open

Section 101

Online

Sep 25, 2017 to Oct 09, 2017

Status:

Open

Required
Summer 2017
Fall 2017
Social Media Strategies & Tactics

Enrollment closed

Section 101

Online

Jul 24, 2017 to Jul 30, 2017

Status:

Open

Not currently scheduled

Section 01

Tue, 9:00 AM - 5:00 PM
Oct 24, 2017
640 Mass Ave.

Status:

Open

Section 101

Online

Oct 09, 2017 to Oct 23, 2017

Status:

Open

Required
Summer 2017
Fall 2017
Strategic Communication Planning

Enrollment closed

Section 101

Online

Jul 31, 2017 to Aug 06, 2017

Status:

Open

Not currently scheduled

Section 01

Wed, 9:00 AM - 5:00 PM
Oct 25, 2017
640 Mass Ave.

Status:

Open

Section 101

Online

Oct 23, 2017 to Nov 06, 2017

Status:

Open

Required
Summer 2017
Fall 2017
Measuring & Calculating Return on Investment for Social Media

Enrollment closed

Section 101

Online

Aug 07, 2017 to Aug 13, 2017

Status:

Open

Not currently scheduled

Section 01

Thu, 9:00 AM - 5:00 PM
Oct 26, 2017
640 Mass Ave.

Status:

Open

Section 101

Online

Nov 06, 2017 to Nov 20, 2017

Status:

Open

Required
Summer 2017
Fall 2017
Policies and Procedures to Manage Risk

Enrollment closed

Section 101

Online

Aug 14, 2017 to Aug 20, 2017

Status:

Open

Not currently scheduled

Section 01

Fri, 9:00 AM - 5:00 PM
Oct 27, 2017
640 Mass Ave.

Status:

Open

Section 101

Online

Nov 20, 2017 to Dec 04, 2017

Status:

Open

Required
Summer 2017
Fall 2017
Capstone Course in Social Media

Enrollment closed

Section 101

Online

Aug 21, 2017 to Sep 04, 2017

Status:

Open

Not currently scheduled

Section 01

Online

Oct 30, 2017 to Nov 03, 2017

Status:

Open

Section 101

Online

Dec 04, 2017 to Dec 18, 2017

Status:

Open