Project Management: On Campus & Online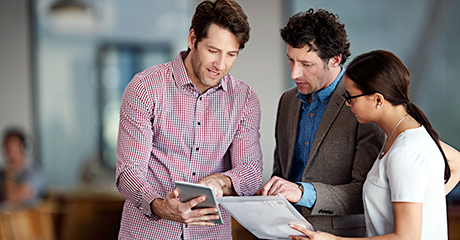 ---
Ideal for
Individuals looking to quickly develop foundational knowledge in project management or those preparing for the PMP Exam.
Program Format
Project management courses are offered on campus as well as online. In-person classes typically meet on Saturdays at our downtown Washington, D.C. campus. All online courses are asynchronous so that students do not need to meet online at a specific time each week. A two week intensive is also offered on-campus.
Program Length
Six courses over one semester. Students are not required to enroll continuously and have up to two years to complete the program.
Program Cost
Tuition varies by course. Total program tuition including all six courses is $6,570.00. Most course materials are included.

Learn more about funding or financing your certificate >>
Start Date
Project Management courses are open enrollment and offered throughout the year. Students must begin with Project Management Fundamentals as the first course. Please see course schedule below for the next start date.
Program Overview
Georgetown University offers a distinctive project management program that helps professionals become more accomplished, qualified, and effective managers in their fields. While the Project Management Certificate Program is built on the core processes defined in the Project Management Institute, A Guide to the Project Management Body of Knowledge (PMBOK® Guide) - Fifth Edition, Project Management Institute, Inc., 2013, the program strongly emphasizes the people skills and real-world practices required to successfully manage projects on time, on budget, and within scope.
Taught by practitioners and academics with extensive industry experience, participants gain analytical frameworks, strategic planning skills, and managerial insight to be more effective project leaders. The program also addresses the role of the project manager in cultivating and supporting innovation in project teams.
Georgetown University is a Global Registered Education Provider with the Project Management Institute (PMI)®.
Program Objectives
Upon successful completion of the program, participants will be able to:
Acquire the people skills, practices, and processes required to be successful project managers
Apply a range of project management tools to ensure projects are completed on time, on budget, and within scope
Develop analytical frameworks, strategic planning skills, and managerial insight to be more effective project leaders and contributors

Understand the role of the project manager in driving organizational innovation
Certificate program graduates will also satisfy the education requirements needed to sit for the Project Management Professional (PMP)® Exam or the Certified Associate in Project Management (CAPM)® Exam.
Certificate Requirements
To receive the Certificate in Project Management from Georgetown University, students must successfully complete four (4) required courses and two (2) elective courses for a total of 8.00 Continuing Education Units (CEUs), which is equivalent to 80.0 contact hours. All six courses must be completed within a two-year period.
| | Course Name | Course Type | CEUs |
| --- | --- | --- | --- |
| 1 | Project Management Fundamentals | Required | 2.40 |
| 2 | The Project Manager's Toolkit | Required | 1.60 |
| 3 | Elective 1 | Elective | 0.80 |
| 4 | Leading Project Teams | Required | 0.80 |
| 5 | Elective 2 | Elective | 0.80 |
| 6 | Managing Projects in the Real World | Required | 1.60 |
| Total | 4 Required Courses + 2 Elective Courses | | 8.00 |

See below for course schedules and registration information.
Program Prerequisites
Program participants must have a bachelor's degree or the equivalent.
International Students
Georgetown University cannot sponsor student visas for non-credit professional certificate programs, however, international students who enter the U.S. on a valid visa are eligible to enroll in courses. For more information, please see our Frequently Asked Questions. A TOEFL examination for non-native speakers of English is not required but students are expected to read, write and comprehend English at the graduate level to fully participate in and gain from the program.
Please note: Georgetown University is not yet able to offer online programs in every state. See Information for Online Students for a list of state approvals or contact ccpeprograms@georgetown.edu for additional questions.
---
Georgetown University has been reviewed and approved as a provider of project management training by the Project Management Institute(PMI)®. As a PMI Registered Education Provider(R.E.P.), Georgetown University has agreed to abide by PMI established quality assurance criteria. PMBOK and PMP are registered marks of the Project Management Institute, Inc.

---
How to Enroll
This certificate is an open enrollment program. No application is required and registration is available by clicking the course links below. Course registration is complete when payment is processed and you receive a confirmation email.
Required:
Leading Project Teams
Managing Projects in the Real World
Project Management Fundamentals
The Project Manager's Toolkit
Exam Prep:
PMI Project Management Professional (PMP) Exam Preparation
Elective:
Business Strategy and Program Management
Information Technology Project Management
Negotiation and Conflict Management for Project Managers
Project Risk Management
Online:
Business Strategy and Program Management
Leading Project Teams
Managing Projects in the Real World
Project Management Fundamentals
Project Risk Management
The Project Manager's Toolkit
---
Course Schedule
Course Name
Semester and Section
Required
Summer 2017
Fall 2017
Leading Project Teams

Enrollment closed

Section 01

Sat, 9:00 AM - 5:30 PM
Jul 22, 2017
640 Mass Ave. , C223

Status:

Open

Section 101

Online

Jun 26, 2017 to Jul 10, 2017

Status:

Open

Not currently scheduled

Section 01

Sat, 9:00 AM - 5:30 PM
Sep 23, 2017
640 Mass Ave.

Status:

Open

Section 02

Sat, 9:00 AM - 5:30 PM
Oct 28, 2017
640 Mass Ave.

Status:

Open

Section 101

Online

Oct 09, 2017 to Oct 23, 2017

Status:

Open

Required
Summer 2017
Fall 2017
The Project Manager's Toolkit

Enrollment closed

Section 01

Sat, 9:00 AM - 5:30 PM
Jul 08, 2017 to Jul 15, 2017
640 Mass Ave. , C223

Status:

Open

Not currently scheduled

Section 01

Sat, 9:00 AM - 5:30 PM
Oct 14, 2017 to Oct 21, 2017
640 Mass Ave.

Status:

Open

Section 02

Sat, 9:00 AM - 5:30 PM
Nov 04, 2017 to Nov 11, 2017
640 Mass Ave.

Status:

Open

Section 101

Online

Sep 18, 2017 to Oct 02, 2017

Status:

Open

Required
Summer 2017
Fall 2017
Managing Projects in the Real World

Enrollment closed

Section 01

Sat, 9:00 AM - 5:30 PM
Aug 12, 2017 to Aug 19, 2017
640 Mass Ave. , C223

Status:

Open

Section 101

Online

Aug 14, 2017 to Aug 28, 2017

Status:

Open

Not currently scheduled

Section 01

Sat, 9:00 AM - 5:30 PM
Nov 04, 2017 to Nov 11, 2017
640 Mass Ave.

Status:

Open

Section 02

Sat, 9:00 AM - 5:30 PM
Dec 09, 2017 to Dec 16, 2017
640 Mass Ave.

Status:

Open

Section 101

Online

Nov 27, 2017 to Dec 11, 2017

Status:

Open

Required
Summer 2017
Fall 2017
Project Management Fundamentals

Enrollment closed

Not currently scheduled

Section 01

Sat, 9:00 AM - 5:30 PM
Aug 26, 2017
640 Mass Ave.

Sat, 9:00 AM - 5:30 PM
Sep 09, 2017 to Sep 16, 2017
640 Mass Ave.

Status:

Open

Section 02

Sat, 9:00 AM - 5:30 PM
Sep 30, 2017
640 Mass Ave.

Sat, 9:00 AM - 5:30 PM
Oct 14, 2017 to Oct 21, 2017
640 Mass Ave.

Status:

Open

Section 101

Online

Sep 04, 2017 to Sep 18, 2017

Status:

Open

Exam Prep
Summer 2017
Fall 2017
PMI Project Management Professional (PMP) Exam Preparation

Enrollment closed

Not currently scheduled

Section 01

Thu/Fri/Sat, 9:00 AM - 5:00 PM
Sep 07, 2017 to Sep 09, 2017
640 Mass Ave.

Status:

Open

Section 02

Wed/Thu/Fri, 9:00 AM - 5:00 PM
Dec 13, 2017 to Dec 15, 2017
640 Mass Ave.

Status:

Open

Elective
Summer 2017
Fall 2017
Project Risk Management

Enrollment closed

Section 01

Sat, 9:00 AM - 5:30 PM
Jul 29, 2017
640 Mass Ave. , C223

Status:

Open

Section 101

Online

Jul 10, 2017 to Jul 24, 2017

Status:

Open

Not currently scheduled

Section 01

Sat, 9:00 AM - 5:30 PM
Sep 30, 2017
640 Mass Ave.

Status:

Open

Section 02

Sat, 9:00 AM - 5:30 PM
Dec 02, 2017
640 Mass Ave.

Status:

Open

Section 101

Online

Oct 23, 2017 to Nov 06, 2017

Status:

Open

Elective
Summer 2017
Fall 2017
Business Strategy and Program Management

Enrollment closed

Section 101

Online

Jul 31, 2017 to Aug 14, 2017

Status:

Open

Not currently scheduled

Section 101

Online

Nov 06, 2017 to Nov 20, 2017

Status:

Open

Elective
Summer 2017
Fall 2017
Negotiation and Conflict Management for Project Managers

Enrollment closed

Section 01

Sat, 9:00 AM - 5:30 PM
Aug 05, 2017
640 Mass Ave. , C224

Status:

Open

Not currently scheduled

Section 01

Sat, 9:00 AM - 5:30 PM
Oct 28, 2017
640 Mass Ave.

Status:

Open

Elective
Summer 2017
Fall 2017
Information Technology Project Management

Enrollment closed

Section 01

Sat, 9:00 AM - 5:30 PM
Aug 05, 2017
640 Mass Ave. , C223

Status:

Open

Not currently scheduled

Section 01

Sat, 9:00 AM - 5:30 PM
Nov 18, 2017
640 Mass Ave.

Status:

Open

Online
Summer 2017
Fall 2017
Leading Project Teams

Enrollment closed

Section 101

Online

Jun 26, 2017 to Jul 10, 2017

Status:

Open

Not currently scheduled

Section 101

Online

Oct 09, 2017 to Oct 23, 2017

Status:

Open

Online
Summer 2017
Fall 2017
The Project Manager's Toolkit

Enrollment closed

Not currently scheduled

Section 101

Online

Sep 18, 2017 to Oct 02, 2017

Status:

Open

Online
Summer 2017
Fall 2017
Project Risk Management

Enrollment closed

Section 101

Online

Jul 10, 2017 to Jul 24, 2017

Status:

Open

Not currently scheduled

Section 101

Online

Oct 23, 2017 to Nov 06, 2017

Status:

Open

Online
Summer 2017
Fall 2017
Business Strategy and Program Management

Enrollment closed

Section 101

Online

Jul 31, 2017 to Aug 14, 2017

Status:

Open

Not currently scheduled

Section 101

Online

Nov 06, 2017 to Nov 20, 2017

Status:

Open

Online
Summer 2017
Fall 2017
Managing Projects in the Real World

Enrollment closed

Section 101

Online

Aug 14, 2017 to Aug 28, 2017

Status:

Open

Not currently scheduled

Section 101

Online

Nov 27, 2017 to Dec 11, 2017

Status:

Open

Online
Summer 2017
Fall 2017
Project Management Fundamentals

Enrollment closed

Not currently scheduled

Section 101

Online

Sep 04, 2017 to Sep 18, 2017

Status:

Open